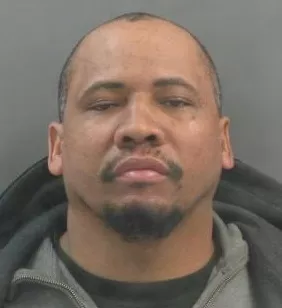 Dyanthany Proudie has a lengthy rap sheet of violent crime.
Nearly two months after a baby was found abandoned in a north county apartment building and the body of the child's mother was discovered days later in the trunk of a car, authorities finally have a suspect in custody.
Today St. Louis prosecutors charged 40-year-old Dyanthany Y. Proudie with the murder of Ebony Jackson and -- for the first time since her January 2nd death -- provided insight into how she may have spent her last few hours alive.
Jackson was in town from Oklahoma when, according to authorities, she stopped by an apartment owned by Proudie in the 4100 block of Ashland in north St. Louis. A probable cause statement made public today suggests that Jackson, 30, and Proudie were "acquaintances" but provides no specifics as to how they may have known each other.
The document states that at some point during the January 2 visit to Proudie's apartment, Jackson went to the bathroom to take a bath. She was preparing the tub when Proudie allegedly entered the bathroom and shot her once in the head -- the bullet entering near her left ear.
Ebony and her infant son -- Donavan Prom -- photographed weeks before the January 2 incident.
Proudie then removed Jackson's body from the apartment and placed her in the trunk of her vehicle, according to investigators. Two days later the baby was found inside the entryway of an apartment complex where Proudie's estranged wife lives. Jackson's car -- with her body in the trunk -- was found blocks away from Proudie's apartment on January 8.
Proudie is currently on probation for unlawful possession of a firearm, unlawful use of a weapon and resisting arrest stemming from a 2012 conviction. In 1992 he was convicted of assault in the second degree. In 1990 he was convicted of second-degree burglary.
He's being held without bond for the murder of Ebony Jackson.