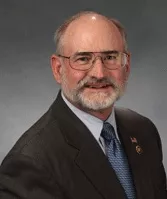 State Senator Brian Munzlinger
The latest effort from local lawmakers to ensure that the federal government does not impose itself on Missouri comes in the form of a child labor bill. The legislation from Republican State Senator Brian Munzlinger carves out specific exemptions from child labor requirements for family farm work performed by children under the age of sixteen.
"We didn't want to jeopardize what farm families have done for generations," Munzlinger tells Daily RFT. "And that is teach our kids responsibility and work ethic."
Some Republican efforts to roll back child labor laws here have brought national attention to Missouri in recent years -- and not the good kind -- but it would appear this bill is a lot less controversial.
Will it pass?
Senate Bill 16, full draft on view below, is working its way through the Senate this week and is expected to move forward.
The proposal says:
This act exempts farm work performed by children under the age of 16 from certain child labor requirements including: the obtaining of a work certificate; hours/days of performance; and certain prohibited hazardous jobs such as operating and maintaining power-driven machinery, climbing ladders, operating vehicles, and working with certain chemicals. This exemption only applies to children working on their own family farms and, when with the knowledge and consent of their parents, the family farms of others.
The bill has specific requirements for how a family farm is defined in this context and under what circumstances children would be permitted to do this work and avoid specific requirements.
"I realized Missouri didn't have any exemptions for agriculture," explains Munzlinger, of Williamstown, adding, "We know what farming is about."
Munzlinger presenting Senate Bill 16
This initiative comes on the heels of the federal government's proposed labor rules last year that would have barred children from certain agricultural work; those changes ultimately did not go forward.
But Munzlinger says he hopes Missouri passes this measure anyway, to ensure that the state has these protections and that children can continue to work on farms as they always have.
"This is not anything different than what we've been doing for generations," he says.
This kind of measure is important to his constituents, he adds.
"I represent...very rural counties," he says. "We've raised...kids on the farm."
Here's the bill.
Send feedback and tips to the author. Follow Sam Levin on Twitter at @SamTLevin.