As we reported last week, Jay Hammond, chair of the Department of Theological Studies at Saint Louis University, resigned in protest of Father Lawrence Biondi -- the latest high-profile case of faculty backlash against university leadership.
After publishing Hammond's formal resignation letter and explanation -- along with response from his department in support of his decision -- Daily RFT got in touch with the professor to discuss his resignation.
"He punishes people that disagree with him," Hammond says of Biondi, SLU president. "He creates a culture of fear, which everyone will privately admit."
How does he hope the university will respond?
Hammond, who will continue on at the Jesuit university as an associate professor of historical theology, emphasizes that the decision he made was a moral one -- and not focused on the political or financial controversies surrounding Biondi's leadership.
"I was not hearing anyone talk about the moral dimensions of undermining the mission," he says. "I do not believe in Larry Biondi's absolutest leadership style."
Last week's news came just two months after faculty members released a lengthy report that they had submitted to the university's board of trustees calling for Biondi to be fired. SLU's financial health and reputation, that report said, had been badly damaged under Biondi in recent years -- as evidenced as well by the overwhelming no-confidence vote from the the College of Arts & Sciences and the Faculty Senate last year.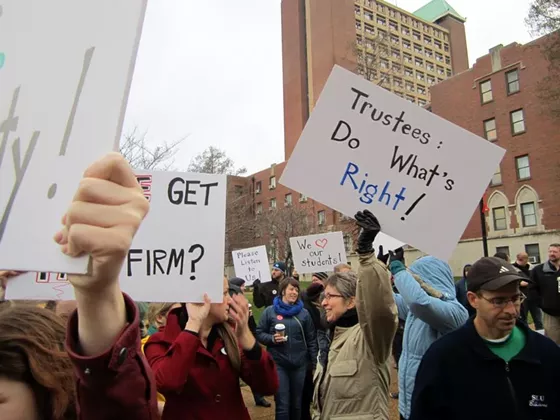 It's insulting for Biondi and top leaders of SLU to not even publicly acknowledge such great dissent, Hammond says.
"They are hoping the whole entire thing goes away. To me, that is unacceptable," he says. "The representative governance of SLU is intentionally being undermined by the upward administration."
He adds, "If you cross [Biondi], you are fired."
The dean of the university's law school resigned last year with a high-profile letter slamming Biondi for operating "so far outside the bounds of common decency, collegiality, professionalism and integrity."
Hammond says, "I'm doing what I thought needed to be done because of what my Jesuit education [has taught me]."
He says he is confident that the board of trustees is divided -- and that there are some who agree there needs to be change and more who recognize that at the very least, there needs to be a public acknowledgement of the no-confidence votes.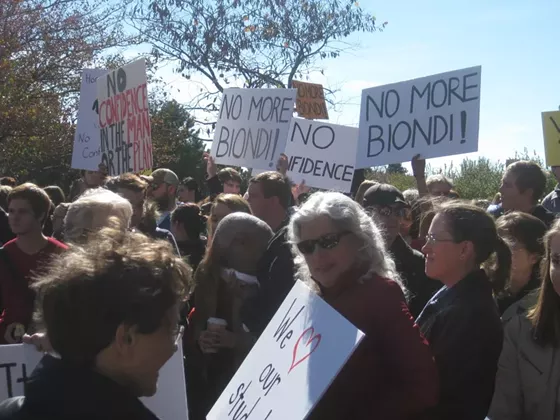 Given their silence -- and referencing "charity in truth" -- he says, "To my knowledge, they have not told the truth yet.... And we are involved in a cover-up...a messy cover-up."
At this stage, he adds, it seems like the leaders of the institution are hoping to resolve these matters behind closed doors to avoid embarrassment.
"I think we are passed the point of embarrassment," he says.
Continue for more of our interview with Jay Hammond and for his full resignation letter.
Hammond says he would like to first see the university respond to the no-confidence votes and then begin to transparently work out a transition plan to restore SLU through Biondi's retirement.
"It is actually quite shocking to me that Father Biondi has not agreed to retire," he says. "If someone receives the overwhelming votes of no confidence...this is not in touch with reality."
He says that Biondi and other top leaders are trying to convince themselves that this is a small group of discontent faculty -- a fact which he says he has heard directly from individuals who attended the most recent board of trustees meeting this month.
For Hammond, it was a personally tough decision, he adds. In his third year as chair, he has a long history with SLU. He got his B.A. in psychology, classical humanities and theology in 1993, then graduated again a year later with a masters in historical theology. Four years after that, he received his Ph.D in historical theology. He was hired back at SLU in 2003.
"It was excruciatingly difficult," Hammond says. "I've graduated from SLU three times. I love the university.... I realize that my resignation has put the department in a difficult situation."
He adds, "I have taken a substantial pay cut. And that really hurts my family."
University spokespeople did not respond to requests for comment last week.
Here's the official letter of resignation with Hammond's full explanation.
Hammond's Explanation of Resignation
Here's the tenured faculty response.
Response of Department of Theological Studies Tenured Faculty
And here's last year's no-confidence report.
Send feedback and tips to the author. Follow Sam Levin on Twitter at @SamTLevin.