As we reported last week, Missouri once again had the most meth lab busts of any state in the country last year -- and folks in Springfield are apparently working to make sure the state is a winner in 2013, too.
We've got the details on not one, but two, reportedly unrelated meth busts in the same hotel within a two-week span.
"Meth labs have been a problem for several years, increasingly so," Lieutenant Vance Holland tells Daily RFT. "Finding them at hotels is not uncommon."
But two in one hotel -- just two weeks apart?
Extended Stay America on East Kingsley Street in Springfield was the alleged scene of the crimes, first reported by the News-Leader last week.
Holland tells us that on January 16, investigators had "received information about a possible clandestine [meth] lab in a room."
When they went and made contact with the resident there, they discovered various remnants of an illegal lab.
See also: - Photos: Top Twelve Craziest Meth Busts In Missouri, The Meth Capital Of The U.S. - Illinois Family Accused of Running Meth Lab Is Actually Just Making Maple Syrup - Missouri Leads the Nation in Meth Labs, Jefferson County Second Highest In Country
Room 317 allegedly had gallons of muriatic acid, a pound of pure lye and packaging for hundreds of pseudoephedrine tablets.
A man named Rex Humphrey was charged and arrested.
Then on January 29, Springfield police obtained a warrant for another suspected meth lab in the hotel -- different room, but same floor.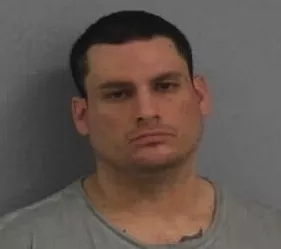 Holland says that once again police discovered basic components of a meth lab.
"The cases aren't related," he says.
News-Leader says that, based on court documents, officers found crushed-up pseudoephedrine pills, starter fluid, gas-line antifreeze and other meth ingredients.
Brandon Hinkley was arrested on the scene and reportedly also had a large bag of meth in his pocket.
Hotels are often chosen as meth lab sites locally, Holland says.
"Sometimes the suspects are homeless and they bounce around from hotel to hotel to avoid detection," he says.
Continue for some of the best Extended Stay customer reviews.
Daily RFT left a message for the hotel last week.
Do guests notice the meth?
For fun, here are some of the worst TripAdvisor reviews for Extended Stay (and it's worth noting there were a fair amount of positive ones, too):
DISGUSTING!!!! Worst Mistake.....
I am presently typing from this very room. The carpet in the lobby tells the story of the entire hotel...Dirty, smelly and disgusting...we are in town for 1 night in order to take a test tomorrow for our ministry class...we booked on Expedia and unfortunately no refunds are allowed this late in the game....
The elevator smelled like sweaty socks, the hallway smells like an ashtray, and the stairway is gross.
Our room had a good air conditioner. The desk was clean, the lights worked and the wi-fi has been good.
The bed is a very small queen if it is even a queen. It is hard as a rock and again the carpet is disgusting. The frig in our room has a very musty smell too.
Sorry to say, even with the price I will mark this one off the list of possibilities from now on...its just too horrible to contemplate staying again...
Hope there's no Bed Bugs
I am in the room right now. 1) door handles upon entry to the lobby are very worn and look very dirty - very first clue something was amiss 2) upon check-in was told that WiFi did not require a passcode - but it does - indicates that staff are uninformed 3) the staff is very friendly and helpful 4) no complimentary toiletry items at front desk 5) room reeked of cigarette smoked, elected to keep room since it was so convenient to first floor entrance - bought Lysol spray and fumagated the room and have both full sized windows open for fresh air circulation 6) no utensils, not one fork, which is okay, think I wouldn't use it anyway 7) full sized refrigerator w/ freezer including 2 ice trays - full too, wont' use of course 8) Large screen HD TV woot 9) shower is fixed to wall - no undercarriage cleaning - do not know yet if during showing it backs up or stand in ankle deep water 10) can't change hotels, this was gov't contracted - good location though - Zio's Italian next door/ Texas Roadhouse 1/2 mi. 11) no coffee pot, not even a little 4 cupper 12) microwave heats Hot Pockets very well 13) have not pulled back spread or sat/lay on bed - can't say about the mattress yet 14) internet can support GW2!


Well that's it so far, had to fumagate and place lysol spray on all common use areas/knobs/handles/ tv remote/refrigerator/toilet/floor of bathtub etc.


I'm won't come back - if they enforced the no smoking policy and cleaned the worn accoutraments first, that would be a start.
If you like sleeping on the floor
then you will be fine in this hotel. I love a hard bed but a piece of cardboard on the floor not so much. Not sure this qualified as a mattress. First appearances as you walk in the lobby was scary. Very dirty. But when we got in our room it was much cleaner.
Worst Bed Ever
This hotel looks fine from the outside, is in a pretty good location, the staff are friendly and helpful, and on first-glance the room (though not exactly well-decorated) seemed OK - clean and tidy at least. The rooms are utilitarian - small kitchen area, small bathroom, bed, desk, single reclining chair, and small TV.


While I would praise the staff for being friendly and helpful, I do not ever want to return to this hotel. The bed is the most uncomfortable thing I have ever slept on. I think I'd prefer sleeping on hard ground while camping - at least then you wouldn't expect anything close to comfort!


The bed was so hard that neither my husband or I could get comfortable on it, so we both tossed & turned (and neither of us is usually picky about mattresses). It also creaked horribly whenever we tried to roll over, making it basically impossible to both sleep at the same time. Half way thru the night, I got up and slept in the recliner, which was actually more comfortable than the bed.


I'd like to find something good about the hotel, but really -- you're stopping at a hotel because you need to sleep -- and that's something you'd have a hard time doing here.
Send feedback and tips to the author. Follow Sam Levin on Twitter at @SamTLevin.