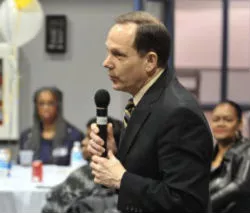 The city has officially withdrawn a labor agreement form that critics earlier this week slammed as the most draconian, anti-employee policy in the history of St. Louis.
Union leaders and opponents of Mayor Francis Slay say this is a significant retraction that will save future employees from signing away their union protections and rights to benefits -- while the mayor's staff has repeatedly said this is nothing more than a revision of language.
Is this a noteworthy labor dispute -- or an election season controversy? We've collected key documents below that provide some clues.
The campaign of Lewis Reed, Board of Aldermen president and mayoral hopeful, began spreading the word over the weekend about a document new employees of the city were signing that contained controversial language.
This "benefits acknowledgement form" and an accompanying memo said that all employees must formally agree that the city can "modify, amend, reduce or terminate any of the various benefits provided...at any time during the course of employment, including but not limited to pension, health and disability benefits."
Photo by Theo R. Welling
Slay, left and Reed, far right, at recent mayoral debate.
Opponents of the mayor, who will face off against Reed in the March primary, slammed the policy as unprecedented and very anti-union. After the Carpenters Union and Reed campaign spoke out Monday morning, the mayor's staff said that it would adjust the language so that it was not so harsh -- and noted that Slay was meeting with union leaders. (One of them afterward told us that he was pleased with the mayor's response).
Daily RFT has since received a copy of an official Department of Personnel memo that was sent yesterday with the subject, "Withdrawal of the Benefits Acknowledgement Form."
The document from Richard Frank, personnel director, says in part:
Due to the controversy this document has caused with Labor, as well as my initial and ongoing concerns, it has become necessary to rescind the Benefits Acknowledgment Form drafted by the City Counselor's Office and distributed at its request by the Department of Personnel.... It will no longer be necessary to have these forms signed by new employees. The forms signed by employees will be removed from their files and rescinded.
"It's really unfortunate we had to go through all of this," JoAnn Williams, business representative from the Carpenters Union, tells Daily RFT, later adding, "This really alleviates all the concerns we had."
Williams, however, says it is clear that the administration is backing away from a major policy change by throwing out this document that would have fundamentally changed policy.
On Monday, Jeff Rainford, Slay's chief of staff, told us:
The document basically informs new employees that your benefits are subject to change.... All of our benefits in America are pretty much subject to change.... It's nothing new. It's not a new policy, not a new law.
He said the city wanted to make it "abundantly clear...that benefits can change."
But Williams sends us the city's "employment opportunity" form, on view below, which she says shows and has always shown that benefits are subject to change.
"All they had to say...was, as indicated on your job announcement, your benefits are subject to change," she says. "That's not what they were after."
Continue for relevant documents in this dispute.
Here's the memo from yesterday regarding the withdrawal of the form.
Withdrawal of Benefits Acknowledgement Form
Here's the city's "employment opportunity" form, which includes the fact that benefits are subject to change.
And here's the original benefits acknowledgement form that sparked the controversy.
Send feedback and tips to the author. Follow Sam Levin on Twitter at @SamTLevin.