In case you missed it, Missouri is, yet again, number one in the nation for meth lab busts, new data shows. This is not much of a surprise to law enforcement officials in the state who deal with this every day -- especially those in Jefferson County, which has the second highest concentration of meth labs in the country.
In honor of Missouri's prestigious title, we thought we'd take a look back at some of the top craziest meth-related crimes in the state in recent memory.
And with methamphetamine, there's a lot of competition -- and very few happy endings. Check out our list below.
12. Mobile Meth Lab, Uncovered By Eight-Year-Old
When your guests are making "loud boom" noises in the woods -- it might be time to get suspicious.
And an observant eight-your-old child in East Carondelet became especially suspicious when he discovered a duffle bag in the treeline -- which turned out to be home to a mobile meth lab.
The discovery prompted several arrests of folks staying with the eight-year-old's family.
See also: -How to Make Meth The Shake and Bake Way -Madison County Meth Lab: "He Heard a Loud Pop...And Found [His] Home Was On Fire" -Missouri Meth Lab Seizures Hit New Record; State Leads Nation Again
11. Shake-and-Bake Run-and-Gun
Investigators in Steele, Missouri last year were watching a house suspected of being a covert drug operation -- when a car pulled away, prompting a pursuit.
A short while later, the car stopped in the middle of the road and the driver, logically, decided to run on foot. Officers, however, tackled him and uncovered a plastic one-liter bottle from his jacket.
What was the device exactly?
A "fully active, boiling shake-and-bake methamphetamine lab." Obviously.
Continue for more Missouri meth busts.
"When I called the prosecutor about it, they said, 'You're kidding me, aren't you?" Sweet Springs Police Chief Richard Downing said, regarding the news that a kindergartener in western Missouri had brought his mom's crack pipe and $3,700 worth of crystal meth to show-and-tell.
Would you like a side of child endangerment with those possession of a controlled substance charges?
Nowhere is safe.
Last May, Boone County police suspected there was something fishy going on in room 212 of the Red Roof Inn in Columbia, Missouri. When they searched, they found Charles Albiol, 34, and Brenda Albiol, 35 -- and their fully operational meth lab. That included all the necessary equipment and chemicals, in addition to meth ready to be smoked in their possession. Next stop for the couple was prison.
Continue for more Missouri meth busts.
8. Walmart Shake and Bake Meth Lady
Meet Jennifer Vaughn, 32, who caused a Walmart to shut down for several hours in June of last year when police busted her for shoplifting -- and in the process discovered what they believe was a shake-and-bake meth lab cooking in her purse.
A couple weeks later, the same exact thing happened again -- this time at a U-mart gas station.
What happens when someone who runs a cemetery also just so happens to be the operator of a meth lab?
At the very least, it becomes a "sloppy operation." And the lithium batteries, lye and camp stove fuel don't help keep things in order.
For William Work, 48, the discovery of his cemetery/meth joint earned him "felony methamphetamine manufacturing, unlawful methamphetamine child endangerment, and possessions of methamphetamine manufacturing materials" charges.
Continue for more Missouri meth busts.
Methamphetamine made 40-year-old Daniel Ray "sick in the head." So says Ray, or as he is known in Springfield, the Sex Toy Bandit.
How'd he get such an awesome moniker?
Ray allegedly enjoyed showing up to adult shops in the late hours of the night, shattering windows -- sometimes with his car -- and stealing sex toys. And the meth, apparently, made this all the more fun.
5. When You Light Your House On Fire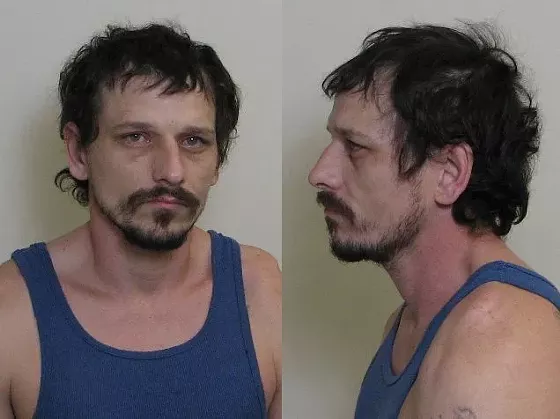 When John Piper realized his Cottage Hills home was burning down in flames, he fled outside -- and did not wait to see if another family member on the scene was okay, police say.
That was likely because he was, at the time, cooking meth, and thus believed to be the source of the "loud pop" that alerted another resident of the house to the fact that the structure was burning in flames.
But it didn't take long for investigators to identify the place as a "clandestine methamphetamine drug lab."
Continue for more Missouri meth busts.
4. Mayor In Trouble
Exhaustion? Methamphetamine abuse? What's the difference? For former Valley Park Mayor Nathan Grellner, it became a kind of important distinction -- and part of one of the many missteps that eventually cost him his job.
After all sorts of legal troubles, he allegedly went to a hospital for "exhaustion." Documents, however, later revealed that meth abuse was probably the more serious cause. Although it's very likely he was exhausted, too -- from reportedly doing many illegal things, like getting DWIs, visiting strip clubs, you know, the usual mayoral stuff.
Stephen Munn got 12 years in state prison after pleading guilty to possession of controlled substances and resisting arrest, all on top of a previous conviction in 2005 for possessing meth-related drug paraphernalia.
Sounds sort of routine, right?
But things got weird when police learned that Munn had been using a mentally challenged man in his care to purchase pseudoephedrine to make meth. And what did this man get in return?
Soda.
Continue for more Missouri meth busts.
Why did 34-year-old Ann Lampe give her 13-year-old daughter meth to smoke?
Because, the youngster would "throw a fit" if she didn't get what she wanted. Obviously.
The explanation didn't exactly fly with police -- even though she told them she knew it was wrong. In response, they charged her with two felony counts of endangering the welfare of a child.
1. Woman Kept in Freezer Survives Kidnapping, Rape
Sometimes, meth use can lead to truly awful, violent, terrible things and such was the case with a 22-year-old Moberly woman, who allegedly faced brutal torture that involved rape and imprisonment in a freezer back in March.
She miraculously survived and four people were ultimately charged in the kidnapping, assault case. One of the suspects, allegedly partying and on meth, reportedly accused the woman of stealing from him before he attacked. Police said the victim, too, was under the influence of marijuana, Vicodin -- and meth.
Send feedback and tips to the author. Follow Sam Levin on Twitter at @SamTLevin.