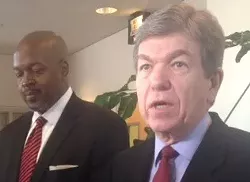 Sam Levin
Roy Blunt.
One of the more heated battles in D.C. this year so far centers around the reauthorization of the Violence Against Women Act, a measure that provides protection for victims of domestic violence. Congress failed to extend it last year, but it's now under consideration at the House -- after it passed through the U.S. Senate last week.
With no help from Missouri Senator Roy Blunt, a Republican.
Blunt was in the minority of GOP senators who voted no. Republicans have objected to added protections for LGBT people, Native Americans and undocumented immigrants.
Daily RFT asked Blunt why he opposed -- does he not support LGBT protections?
"My prediction is I will vote for the extension of the Violence Against Women Act when it happens," Blunt says in response to our question at the end of his St. Louis press conference last week on mental health. "But when it happens, they will have worked out the Indian reservations issues -- and the other issues that are real problems in that bill."
He adds, "The bill that was on the Senate floor will not ever become law."
Is he concerned with the specific LGBT protections, we ask in a follow-up question.
"I think I just answered the question," he replies, adding, "See you all," as he makes his way out the door of the center where he had staged the news conference.
Sam Levin
Roy Blunt addresses reporters.
Blunt was one of 22 senators to oppose the bill, up against the 78 that voted in favor of it last week.
Critics of this small minority opposing the measure argue that they are pandering to the extreme right-wing viewpoints; for example, a Post-Dispatch editorial, highlighting Blunt's no vote, says, "Voting against help for people whose sexual or ethnic orientation frequently make them targets for violence won't make them go away."
While Blunt's conservative viewpoints aren't all that surprising -- he has fought against bill to bar employers from discriminating against gays and lesbians -- his vote against VAWA comes at a time when the measure is getting support from GOP politicians as well.
Continue for information on Senator Claire McCaskill's support of VAWA.
Meanwhile Missouri Senator Claire McKsakill, a Democrat, has been rallying support for VAWA.
Here's a recent press release from her office:
KANSAS CITY - Following passage in the U.S. Senate of legislation renewing the Violence Against Women Act, former Jackson County Prosecutor and U.S. Senator Claire McCaskill--alongside current Jackson County Prosecutor Jean Peters Baker and Boone County Prosecutor Dan Knight--appeared in Kansas City and Columbia to call on the U.S. House to end its nine-month delay and pass the critical legislation.



"The Violence Against Women Act provides prosecutors and law enforcement the resources they need to protect Missourians from domestic abuse and to assure offenders are held to account," McCaskill said. "This reauthorization has now passed two times in the Senate--the President is waiting to sign it--we're all waiting for action in the House. They need to act."



At today's events, McCaskill discussed her work with victims of domestic violence as the first female prosecutor for Jackson County. As head of the largest prosecutor's office in the state, McCaskill established a special Domestic Violence Unit to combat domestic violence and child abuse.



The Violence Against Women Act reauthorization passed the Senate this week with a strong bipartisan vote of 78-22, and now awaits consideration in the U.S. House. A similar measure passed the Senate last year, but never received a vote in the House. Originally passed in 1994, support for the legislation's renewal in 2000 was passed with a 95-0 vote in the Senate, and a 371-1 vote in the House. An even stronger consensus emerged in 2005, with unanimous approval in the Senate, and a 415-4 vote in the House.



Last year, McCaskill was joined by every Democratic woman in the U.S. Senate as they signed a letter sent to all the women in the U.S. House, encouraging them to pass the languishing VAWA reauthorization.
Send feedback and tips to the author. Follow Sam Levin on Twitter at @SamTLevin.