Sam Levin
Francis Slay.
Is this the "most draconian anti-employee policy in the history of the City of St. Louis?"
So says Lewis Reed's mayoral campaign which is spreading the word about an internal memo that they -- and other union leaders and Reed supporters -- are arguing reveals an incredibly anti-union policy that the Slay administration has implemented. The memo, on full view below, includes a "benefits acknowledgement form" that new city employees must sign, saying the city can "modify, amend, reduce or terminate any of the various benefits provided...at any time during the course of employment, including but not limited to pension, health and disability benefits."
Slay's staff, however, says that this is in no way a new policy -- but that they are working to revise the language of the form so it is not so harsh.
Should new city hires who have signed the document be worried?
The memo -- first sent to us by St. Louis radio talk show host Lizz Brown -- came from the Carpenters Union, which noticed this apparent change and is lobbying Slay to retract this required agreement.
Sam Levin
Lewis Reed talking to reporters.
The attached January 17 memo, from Richard Frank, director of personnel for the city, says that this "Benefits Acknowledgement Form" must be signed prior to any employee is officially hired -- and that if a potential employee refuses to sign the form, he or she cannot be hired by the city, which would then need to go to the next eligible candidate.
The letter employees are signing says in part:
I understand and agree the City of St. Louis may modify, amend, reduce or terminate any of the various benefits provided to me as a City employee at any time during the course of my employment, including but not limited to pension, health and disability benefits. By signing this Benefits Acknowledgement Form, I represent that I understand and agree that the benefits...provided by the City of St. Louis...may be modified, amended, reduced or terminated unilaterally by the City of St. Louis at any time and that the City has not promised that any particular benefit(s) will continue to be provided during the course of my employment.
By signing, it would appear that new employees are waiving their rights to all contractual benefits, opponents say.
"Individual people can be singled out from this point on and denied whatever benefits that every other family already has," JoAnn Williams, business representative from the Carpenters Union, tells Daily RFT. "Every benefit -- vacation days, sick days, holiday pay."
Her union has endorsed Reed in the race for mayor.
She says she has never seen a policy like this in public sector negotiations. "You forfeit all your rights.... In the worst recession since the Great Depression...you are telling people at their most vulnerable state that if you want a job, give us your right to take away all your benefits.... That is unprecedented."
Brown, who first posted this agreement form on Facebook, and who is a long-time supporter of Reed, says that she has been in discussions with employment lawyers who say this is new territory.
"Nobody believes this would stand up under scrutiny of the law," Brown tells Daily RFT.
At this point, Williams says the union is urging the mayor to retract the policy -- and will consider the next steps from there if his administration refuses. Part of the problem is that the union cannot even fight on behalf of these potential employees, because they are forced to sign this before they become employees and can get union representation, Williams says.
But Jeff Rainford, the mayor's chief of staff, says that this is nothing more than a political attack during the election and that absolutely nothing has changed with city policy.
Continue for our interview with Jeff Rainford and for the full document.
"The document basically informs new employees that your benefits are subject to change," Rainford tells Daily RFT. "All of our benefits in America are pretty much subject to change."
He says this document comes from the fact that the city is currently in litigation with the firefighters and that there was misinformation being spread -- that their benefits could never change.
Since that fact does not line up with city policy, he says, the city counselor recommended that they write new language for hires that makes it "abundantly clear...that benefits can change."
"It's nothing new. It's not a new policy, not a new law.... It doesn't mean anything that Lewis Reed is saying," says Rainford.
But since word got out about this, Slay met with union leaders this morning to discuss this and "agreed that the language came across as being harsh...and it was creating angst and anxiety," Rainford says.
The mayor will withdraw the agreement as written and develop new language that protects the city's legal position, but doesn't create as much anxiety, Rainford says. He emphasizes that there will still be no policy change, but simply an adjustment in language.
"The mayor acknowledges that the way it was worded is open to creating anxiety and he doesn't want to create anxiety," he says.
All the attention around this issue has to do with campaign season and the Carpenters Union's endorsement of Reed, he argues.
"If this was a normal day and not two weeks before an election...all of this would be worked out," Rainford says.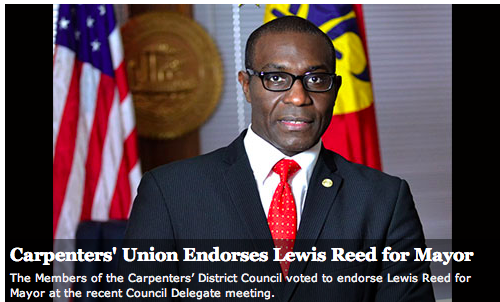 via carpdc.org
The Carpenters Union has endorsed Reed in the race for mayor.
The Reed campaign held a press conference at City Hall this morning to spread the word about this issue.
Here's the memo and attached agreement document.
Send feedback and tips to the author. Follow Sam Levin on Twitter at @SamTLevin.