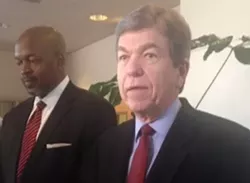 Sam Levin
Roy Blunt speaking to reporters last week.
Late Friday afternoon, Senator Roy Blunt held a press conference at the Betty Jean Kerr People's Health Center in St. Louis to promote his plan to improve mental health treatment across the country.
The time is right, he told reporters, since people want concrete actions taken in response to the tragedies that have damaged communities throughout the nation.
But when pressed on questions of guns and background checks, he didn't have too much to say, except that gun control was not the topic at hand -- and that neighbors should be able to trade shot guns without government getting in the way.
Blunt is pushing a series of bills that he unveiled the week prior as part of an effort to better put federal dollars toward mental health treatment improvements in the wake of the tragic shooting at Sandy Hook Elementary School in Connecticut. He has introduced the "Excellence in Mental Health Act," a bipartisan bill that would give Community Mental Health Centers across the country the opportunity to obtain federal funding and has also cosponsored a "Justice and Mental Health Collaboration Act," which would improve access to mental health services for those in the criminal justice system.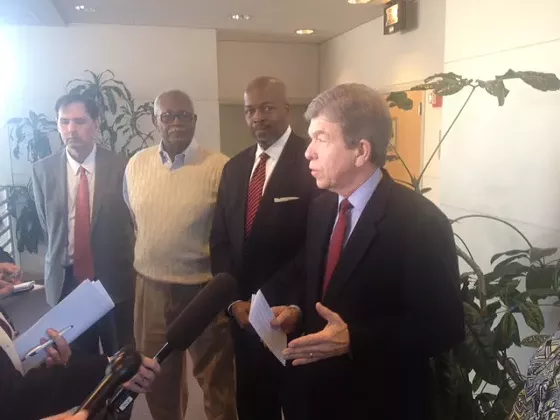 Sam Levin
Roy Blunt, next to Dwayne Butler, CEO of People's Health Centers
"The moment is right to look at mental health," he told reporters in a brief press conference after he had met with officials at the St. Louis center. "If you're gonna deal with it, you need to deal with it at a time when people are interested in dealing with it. It is easily pushed to the back burner of health care. So I think the time is right to look at this. I think people understand that it's a component of some of the tragedies that we've dealt with in the last few years."
Blunt emphasized the importance of an integrated model, where patients can seek behavioral health treatment at the same place they receive primary care.
"We know that...if we send them down the street for [mental health] help, they're likely to show up twenty to thirty percent of the time," said Dwayne Butler, CEO of the People's Health Centers. "If we send them down the hall in the same building, that number goes up to about sixty or seventy percent of the time. But if we bring the psychiatrist or psychologist into the exam room when they are with their primary care [doctor]...we get one hundred percent compliance."
Part of the discussion around reducing the risk of these terrible tragedies has been about ways that law enforcement can better keep guns out of the hands of those who struggle with mental health problems or have a criminal history. There's been a contentious debate on this in Missouri, where there is a proposal in the legislature to require all sales or transfers of guns go through a licensed dealer.
After Blunt said there needs to be better systems for people to report mental health concerns, a reporter asked him if that's an argument for truly universal background checks.
"No, but it's an argument for adding mental health information to background checks -- whatever background checks happen," he said. "And you're much more likely to catch that problem in a background check then you are a criminal problem. Most criminals are gonna figure out how to get guns without going through a background check. You're never gonna have universal background checks."
He added, "That's a separate issue than providing those services at this facility -- and you wouldn't want to confuse the two."
A reporter later questioned Blunt again on closing the loophole at gun shows that allow buyers -- regardless of mental health status -- to purchase guns from private sellers. After arguing with the reporter back and forth about what the current laws actually are, Blunt said, "Here's the deal. I'm gonna decide where is the best way to deal with this problem -- to put my personal effort. I happen to believe it's gonna be more likely we are gonna get something very positive done on the health care part of this agenda than the other part."
Continue for more on Roy Blunt's press conference.
Blunt continued, "Now if the majority wants to produce a bill to vote on, I'll look at it and in the past, I have voted on things that would've tightened these background checks at gun shows.... I voted for that, but I'm likely not to be for something that stops two neighbors from trading shot guns or stops a grandfather from giving a [gun]...to his 16-year-old grandson."
"But what if the 16-year-old granson has mental health issues?" the reporter interrupted.
"Look, look, look, you and I can debate this all we want to. I've told you what I'm for. And my best sense of this is that the most ground is to be gained now in the mental health field," he said. "And that's where I'm going to put my personal efforts."
From a press release earlier this month, here's an outline of the mental health measures Blunt is sponsoring.
WASHINGTON, D.C. - In the wake of the tragedy at Sandy Hook Elementary in Newtown, Conn., U.S. Senator Roy Blunt (Mo.) announced today that he is co-sponsoring several bipartisan bills in an effort to spend federal dollars more wisely when it comes to treating and identifying people who are mentally ill.

"Millions of people suffer from diagnosable mental disorders across America. But too often, we neglect or miss the warning signs of an individual suffering from a mental health crisis, and we fail to help them in their time of need," said Blunt.

- Senator Blunt joined U.S. Senator Debbie Stabenow (Mich.) in introducing the "Excellence in Mental Health Act," a bipartisan bill intended to address our nation's fragmented mental health system by offering current Community Mental Health Centers (CMHCs) a chance to obtain the Federally Qualified Community Behavioral Health Center (FQCBHC) designation. The legislation is also cosponsored by U.S. Senators Marco Rubio (Fla.), Susan Collins (Maine), Jack Reed (R.I.), and Barbara Boxer (Calif.).

- In addition, Senator Blunt is a co-sponsor of the "Mental Health First Aid Act of 2013," which was introduced by U.S. Senators Mark Begich (Alaska) and Kelly Ayotte (N.H.) and cosponsored by six of their colleagues. The bill authorizes the launch of a demonstration program to support mental health first aid trainings nationwide in order to help individuals to identify, understand, and respond to the signs of mental illnesses and addiction disorders.

- Senator Blunt is also a co-sponsor of the "Justice and Mental Health Collaboration Act," which was introduced by U.S. Senators Al Franken (Minn.) and Mike Johanns (Neb.) and co-sponsored by a bipartisan group of 14 of their colleagues in the Senate and 10 members in the U.S. House of Representatives. The bill will help make communities safer by improving access to mental health services for people in the criminal justice system who need treatment. The bill also focuses on giving law enforcement officers the tools they need to identify and respond to mental health issues, and includes a 5-year reauthorization of the "Mentally Ill Offender Treatment and Crime Reduction Act" (MIOTCRA), continuing support for mental health courts, and crisis intervention teams.

"I believe we need to have a national discussion about improving the ways in which we treat and identify people who are mentally ill so we can try to intervene before someone does something that tragically impacts their lives and the lives of others," Blunt continued. "That discussion should include looking for ways to spend federal dollars more wisely when it comes to mental illness, and these bills are a step in the right direction."

To view Senator Blunt's op-ed on mental health in the Kansas City Star, please click here.
Send feedback and tips to the author. Follow Sam Levin on Twitter at @SamTLevin.