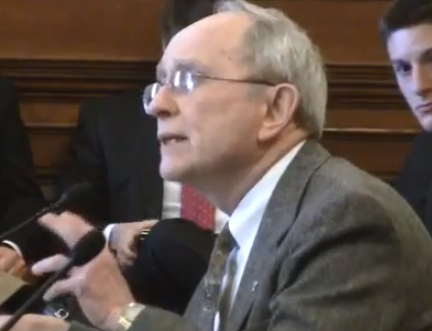 Reverend John Bennett at the Capitol yesterday. Video below.
A hearing at the Capitol yesterday about a fiscal bill took a bizarre turn when Republican State Senator John Lamping engaged in a heated religious debate with Reverend John Bennett, a 72-year-old retired pastor who spoke out against cuts to social programs.
The exchange caught on camera, full video below, begins with Bennett's speech, in which he criticizes the bill within a scriptural framework -- saying budgets are moral documents and lawmakers must help the needy and the poor. Lamping then slams the pastor as a hypocrite -- because he doesn't support the reintroduction of religion into public schools -- and adds that government cannot care for the neediest like it has been for decades.
"I admit he came on pretty strong," Bennett tells Daily RFT after. How?
First, here's the footage, courtesy of Progress Missouri:
The bill in question is Senate Joint Resolution 2, a GOP-sponsored initiative that, if approved by voters, would amend the constitution to place limits on state general revenue appropriations going forward. Republican supporters argue that it would limit spending and ensure smarter, balanced budgets while opponents, like Bennett, say that it would produce drastic cuts that would hurt lower-income families and vulnerable populations across the state.
These kinds of programs must be cut, Lamping says.
In his speech at the Senate Ways and Means Committee, Bennett says:
Scripture does not tell us how we should spend public funds, but it does make clear that we are stewards, not owners, of the financial resources entrusted to our care. And that how we use those resources must advance God's holy purpose -- care for the whole human family, or to put it into political terms, care for the common good. Cutting criticial services that serve many of the least among us, does not serve God's purpose nor the common good.
But Lamping counters the whole premise, saying these religious groups are backing the wrong cause.
"I find it sadly ironic or it's a paradox that all of the religious organizations that take up this mantle, I don't see them down here at the Capitol steps demanding the reintroduction of religion and faith into public schools, which our country had a long history of," Lamping says, noting the role of religious teachings in curricula fifty years ago. "Those are all gone now."
Continue for more of the exchange and our interview with Reverend Bennett.
Lamping continues, "You're advocating for further funding of public schools, and I find it quite ironic...that you're not down here the next day advocating for the reintroduction of faith into the public school system."
Bennett responds, "I am advocating for the introduction of faith into public policy."
"But not schools!" Lamping interjects.
Lamping later adds that individuals do have a moral obligation to care for the most vulnerable, "but to think that we are going to execute that through government.... It's been a complete failure. It's done far more damage than good."
via Facebook
John Lamping at a Richmond Heights parade.
"We respectfully disagree, Senator," Bennett says.
"And I'm certainly disappointed," Lamping says, later concluding, "We'll both get down on our knees tonight and pray for each other, won't we, reverend?
After the hearing, Bennett tells Daily RFT that it's clear the prayer-in-schools debate is over and that he is ultimately more concerned with public policy supporting vital social programs.
"Every child in this nation has a right to pray at school in private or with a group of friends, and to me that's not an issue," he says. "I think it's been settled."
Bennett, who lives in Jefferson City, adds, "Budgets should reflect the...values of the people, and to me, the most significant value is concern for the public good...of all, not just a few."
Here's the full bill in question.
Send feedback and tips to the author. Follow Sam Levin on Twitter at @SamTLevin.