via Facebook
Lisa Miller
Lisa Miller, a candidate for the Board of Aldermen for the 15th Ward, says she had a range of emotions when she heard the news that the annual PrideFest would be moving from Tower Grove to downtown this year.
"It's almost as if you're watching your kid grow up," says Miller, who is gay and has lived in Tower Grove South for nearly twenty years. "I want you to stay with me and be my kid forever, but the kid grows up -- and moves downtown."
Miller, who is hoping to unseat Alderwoman Jennifer Florida in the upcoming election, says that her opponent, as a representative of the neighborhood, could have done more work on the ground to help address the backlash that has emerged since Pride St. Louis announced the move out of its long-time location.
What's Florida's take on the change?
As we've reported, Pride officials have said that the move to downtown is mainly because the festival has just outgrown Tower Grove (check out their full explanation). But it came as a surprise to those in that neighborhood -- and as Miller is campaigning in the area, she says it's clearly a tough change for many LGBT supporters in this part of the city.
"It gives a bigger space for more people to enjoy the celebration -- and a day to celebrate how far we've come. I think that is a good thing," she says. "But then there's just sadness. There's a void now."
Photo by Alexis Hitt / RFT slideshow
Scene from Tower Grove pride festivities last year.
And she says Florida, as the local rep for Tower Grove South, could have worked more on the ground with leaders in the LGBT community to come up with some solutions about how to resolve the frustration with the move.
"It's my plan to be involved as it goes forward regardless of the outcome of the election," Miller says.
via Facebook
Lisa Miller in Afghanistan
Miller, who owns a publishing company and has thirty years of military service in the U.S. Army and Army National Guard, says that there are talks of what kind of festivities can remain at Tower Grove this year to keep that tradition alive in some way, without taking away from the main parade, which will now be downtown.
"As a member of the LGBT community, I have a natural sensitivity and connection to the community," she adds.
Continue for our interview with Jennifer Florida.
For her part, Florida tells Daily RFT that she too feels it's a bittersweet move (and even coincidentally uses the same analogy of a child growing up).
"We on some level feel it's a neighborhood event...but recognize that it's really the pride parade," Florida says. "We've served as a long-time incubator. It hurts to have the move, emotionally it hurts. We care so much and love it so much and support it so much."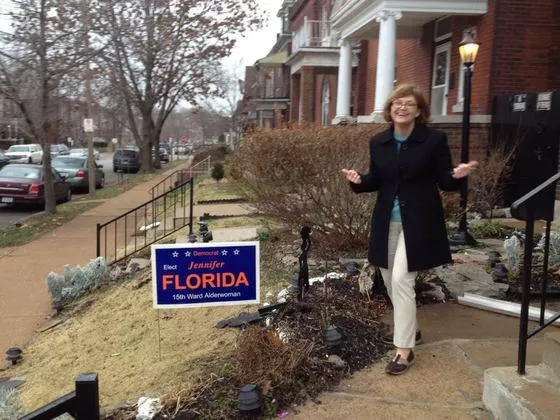 via Facebook
Jennifer Florida
She says that supporting the LGBT community is not just a neighborhood responsibility.
Florida also says she learned about the move in the newspaper just like most others.
"It's so easy to be critical...and rush to judgment when I wasn't part of that decision making," she adds. "That's not my role and responsibility.... I'm there to assist them."
Practically, she adds of the Pride officials, "I wouldn't be their priority in their decision making."
She says she had heard rumblings of a potential move downtown two years ago, but nothing close to concrete until the official announcement was made at the end of last year.
"I honestly...think it's just growing pains," she says, noting that regardless of the reasons, "It does kind of hurt."
Send feedback and tips to the author. Follow Sam Levin on Twitter at @SamTLevin.