Courtesy of Dale Roberts
Fano the dog. More photos below.
In 2011, Rob Sanders, a Columbia, Missouri police officer, lost his job after he was accused of using excessive force against someone in custody in a holding cell. That wasn't all he lost.
He was also forced to separate from his police dog named Fano, a german shepherd. What followed, Dale Roberts, executive director of the Columbia Police Officers Association tells Daily RFT was a long, drawn-out battle to reunite with his dog -- one that kept Fano away from Sanders for a year-and-a-half.
How'd Sanders and Fano finally meet again this week?
Here's the series of bizarre events, at least according to Roberts. (The Columbia Police Department did not return a call for comment yesterday).
"Officer Sanders had used force to get control of a combative person who was in custody," Roberts explains of the 2011 incident that started the whole thing. He notes that the case then required a review and potential punishment. "He should have been disciplined.... Instead he was fired. And when he was fired, no one could handle the dog."
Courtesy of Dale Roberts
Rob Sanders and Fano, reunited.
Roberts explains that "most dogs bond with their handler and don't want to deal with anybody else."
Sanders wanted his job back -- but he also wanted Fano.
So he and his supporters organized and reportedly raised a total of $10,000 to get him back. They went to the Columbia City Council and asked if they could buy him.
"The city said no," he says.
But according to Roberts, the city couldn't figure out what to with the dog, so officials sent him to a kennel in a different city, which allegedly cost the department $8,000 in total.
"He was basically kenneled for 18 months," Roberts says. "I'm a dog owner -- I was away from my dog a couple weeks ago just for five days, and it made me crazy."
Finally, a few weeks ago, the city sold Fano to the police department in Clarence, Missouri. For how much?
One dollar.
Continue for more details on Fano's journey and for more photos.
An AP story, too, says this was the price of the sale.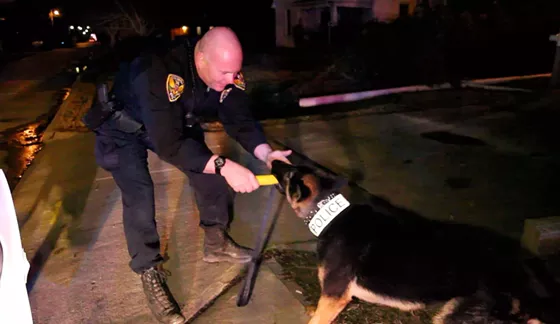 But apparently that police department quickly realized Fano wasn't such a great fit.
So an Ashland police officer -- who knows Sanders -- bought Fano. Again, for one dollar.
And this week, he returned him to his original owner.
"Eighteen months and $18,000 dollars later, the dog is back where he belonged all along," says Roberts, arguing that the city wasted $8,000 on putting Fano in a kennel in addition to the $10,000 the department could have received in revenue if officials had just agreed to sell the dog to Sanders.
Meanwhile, Sanders' legal battle with the department is still pending. (We've given Sanders an opportunity to comment and will update if we hear back -- though it seems he has generally declined interviews due to his ongoing case).
"We have supported Officer Sanders all along," Roberts says. "We think he ought to have his fair hearing."
In the meantime, reuniting with Fano has been great, he adds.
"He jumped on his arms, licked his face all over," says Roberts. "He just went crazy to see him again."
Continue for more photos.
All images courtesy of Dale Roberts
Fano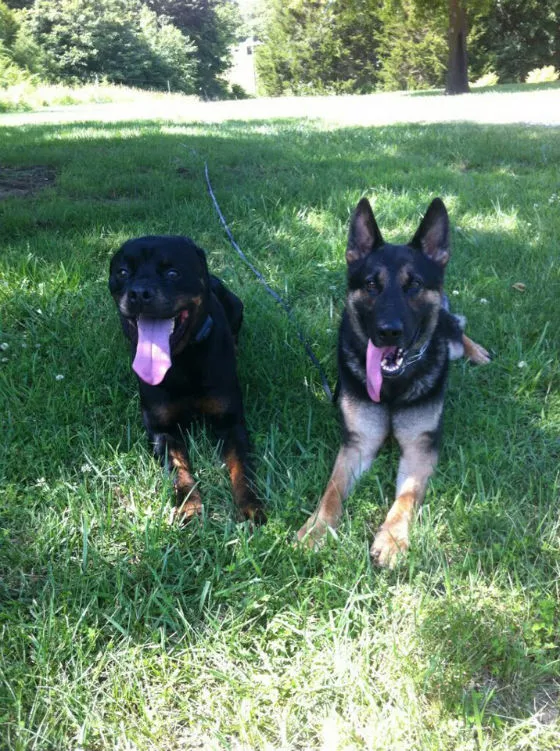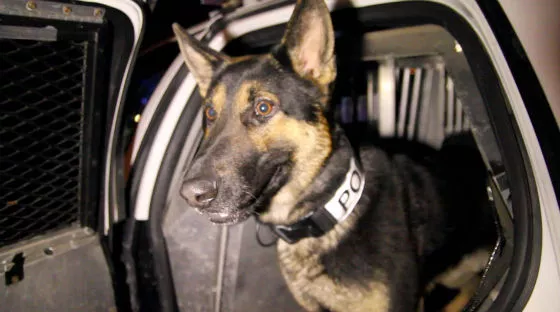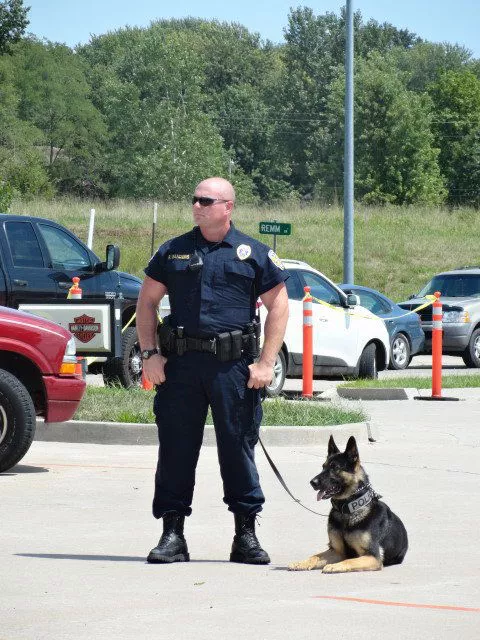 Send feedback and tips to the author. Follow Sam Levin on Twitter at @SamTLevin.