There are few bills in Missouri that are so divisive and so precisely divided along party lines. But a proposed photo ID requirement for voting has state lawmakers locked in a clear partisan battle where all members on both sides will remain loyal. So says Representative Stanley Cox, one of two Republicans behind the legislation, which is expected to be taken up on the House floor today.
The voter ID bills have been speedily moving forward this session, sparking a fair amount of controversy at each step of the process.
"I don't know of any other legislation that is like this," Cox tells Daily RFT.
What makes the proposal so unique?
Cox tells us that he expects it to pass out of the House -- as the proposal has several times in past sessions when he has introduced it.
He says, "Unfortunately, it is truly, among the members of the General Assembly, a major partisan divide."
He says he can't think of any other legislation like this in the state where the party division is so clear cut. (As we reported this week, there are, for example, pro-life Democrats in Missouri).
Dems and Republicans don't break away from their party on this one, he says.
There are two opposing narratives regarding the impact that a voter ID bill would have in Missouri.
The GOP backers of the bill say it will prevent voter fraud across the state and thus ensure that no vote is devalued by an illegal ballot being cast.
Democrats, however, say the requirement could literally disenfranchise hundreds of thousands of rightful voters in the state.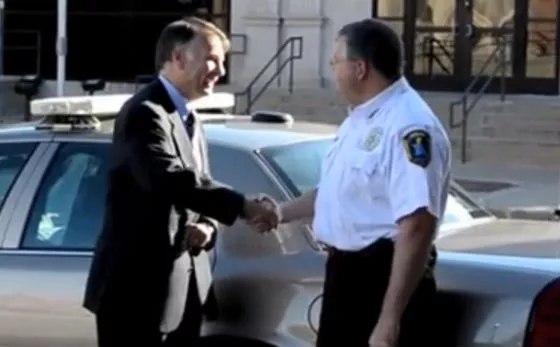 In order to implement the policy, in addition to the bill passing, voters in the state would have to change the constitution through an amendment, which has been proposed through a separate measure.
If it passed the General ASsembly, Governor Jay Nixon, a Democrat, would have the opportunity to veto the measure.
In that case, Cox says, "We will attempt to override the veto."
Continue for more commentary on the voter ID bill.
Opponents argue that voter ID unfairly burdens lawful voters, some who have been voting for decades but don't have a driver's license -- because they don't drive. And voter ID bills across the country have been slammed as right-wing ploys to suppress the votes of those who tend to vote for Democrats.
Cox scoffs at the idea -- which he says has heard over the last month from opponents -- that the bill is racist. The legislation, he says, "is designed to protect white and black voters alike from disenfranchisement through cheating."
And it has nothing to do with the election off the president, he adds.
"I filed this bill before Barack Obama was even president," Cox says.
On both sides, there are questions about the price tag of implementing such a policy -- given that the bill includes provisions to help legal voters get IDs if they don't have them.
Representative Sue Entlicher, a Republican and chair of the House Elections Committee, says she will probably vote in favor of voter ID requirements, given her experience as a county clerk.
"It's...been in the news for years and years and there's good arguments on both sides," she says, noting that there are problems in the system and possible legislative fixes that could help prevent improper votes.
But, she adds, "It's costly. It's another job for somebody to take care of.... It just depends on what we [want]...to pay for."
Send feedback and tips to the author. Follow Sam Levin on Twitter at @SamTLevin.