A controversial smoking ban proposal at the St. Louis County Council has prompted businesses to protest stricter policies that they say could hurt their revenues. As we've reported, the policy under consideration, would limit exemptions to the ban so that a majority of establishments could no longer allow smoking.
After a contentious hearing last week, Daily RFT has been in contact with some of the advocates on the ground about all the possible scenarios officials are studying, and we've compiled a list below -- everything from square footage limits to age requirements and more.
Councilman Michael O'Mara, the official behind the proposal, has not returned our repeated calls for comment. But the basic proposal, on full view below, would add new exemptions to the existing smoking ban, such that most bars and casinos -- depending on how much food they serve -- would now also have to ban smoking.
Still, the policy is being debated and could face revisions in response to pressure from business owners.
Here are some possible alternatives:
Exemptions for businesses 21+ This seems to be one of the more popular choices among bars that could be affected by a wider ban. The idea is simple: If the business is a 21 and older establishment, then they can be exempt from any smoking ban.
"The basic idea is if you create a space that a minor can enter, then smokers aren't allowed," says activist Bill Hannegan, who has been vocal in organizing bars to respond to the proposal. "In the bar community...they are in favor of it.... It's so enforceable."
Photo by Jennifer Silverberg
Bill Hannegan, activist and subject of a 2009 RFT feature.
Within this policy, there are a range of possible scenarios. Some would like to see bars allowed to maintain 21 and older -- and smoking permitted -- sections while still having other parts be open to 18 and older guests, if they are a music venue, for example.
There are also questions about whether bars could designate certain times to be 21 plus and thus allow smoking only in designated hours.
Exemptions for businesses 18+ Some bars favor this idea, but it's less likely to have widespread support. Given that at age 18, people can smoke and buy cigarettes, this seems logical to some, but it could get complicated in terms of enforcement; it would, however, pose less of a burden to businesses that do want to continue 18 plus policies -- but also want to permit smoking.
Continue for more of smoking ban proposals.
Raise the food limit to 49 percent Right now, businesses in which food sales are less than 25 percent of total sales are allowed to permit smoking, but some argue that this is very arbitrary and unfairly excludes businesses in which food is still a small portion of revenue. David Kuneman with the Citizens' Freedom Alliance -- who sent us a helpful breakdown -- says that bars that have food sales up to 49 percent likely still rely largely on alcohol sales.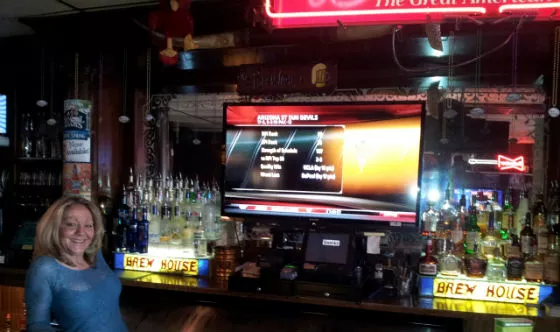 Courtesy of Carol Fallert
Carol Fallert, owner of The Brew House in Maryland Heights, opposes a stricter ban.
Hardship waivers If the owner can prove, through business tax returns, that revenue fell more than 15 percent as a result of a smoking ban, then they should be given an exemption.
We spoke last week with one small business that predicted a serious drop in sales if a ban were imposed.
Allow e-cigarettes anywhere
This is a simple policy change that would require eliminating e-cigarettes, or electronic cigarettes, from the county's definition of "smoking," thus allowing these in any establishment.
Continue for more of smoking ban proposals.
Exempt all "non-public" establishments, as defined in Missouri Under this proposal, all "non-public" businesses could permit smoking if they choose, which would include bowling alleys, pool halls, bars, cigar shops, taverns and restaurants with fewer than fifty seats.
Square-footage requirement Since some have argued that small bars are unnecessarily burdened by smoking bans, officials are considering a proposal to allow exemptions for businesses under a specified square footage. O'Mara has implied that this is something that he is exploring, in response to the concerns he has heard from bar owners.
The problem, however, is that it can become unfair to have an arbitrary cutoff point.
"If you literally want to protect the small places," Hannegan tells us, "that's one way to do it."
Here's the full proposal.
Send feedback and tips to the author. Follow Sam Levin on Twitter at @SamTLevin.