SLMPD
Timothy Gilbert, alleged rapist, burglar
In December, Timothy Gilbert, 18, broke into a private home, kidnapped a 16-year-old girl, threatened her with a knife -- and raped her.
At least these are the gruesome charges that Gilbert, a Maplewood resident, is now facing, officials announced yesterday.
And these are not the only allegations against Gilbert; cops say that he is also a suspect in a similar break-in robbery, sexual assault case from a day prior. He's got a noteworthy prior criminal record, too.
How did the authorities finally identify him?
Back in January, the Circuit Attorney's Office issued warrants for burglary and theft for Gilbert, who is from the 7300 block of Kensington Avenue in Maplewood, police say.
Then on Sunday, the Circuit Attorney's Office issued an additional warrant for a much longer, much more awful list of accusations against Gilbert: forcible rape, kidnapping, five counts of armed criminal action, burglary, attempted forcible sodomy, sexual abuse and two more counts of theft and stealing under $500 for an incident that occurred on December 15th in the 3900 block of Delor Street.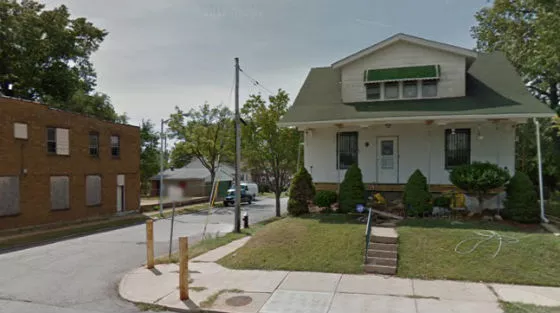 Google Maps
Neighborhood where the alleged rape took place.
According to a lengthy probable cause statement from the Circuit Attorney's office, on full view below, Gilbert had a knife on him when he entered the house of the 16-year-old girl, who was sleeping at the time.
He held a knife to her and forced her to leave through the back door, the report says. He then allegedly pulled down her pajama pants and spit on her before raping her while continuing to hold his knife to her body.
After the assault, he took her clothing, cell phone and purse, officials say, noting that he left behind DNA evidence on her bra strap.
Continue for more on Timothy Gilbert's other alleged crimes and the full reports.
Meanwhile, the Post-Dispatch says Gilbert is also a suspect in similar break-in nearby on Walsh Street the day before, in which a man broke into a home and also sexually assaulted a woman at knifepoint.
Both cases, the paper says, involved an unlocked rear door.
All of this is on top of his January charges -- in which he is accused of breaking into a Holly Hills Avenue home on the first day of the new year. The married couple that lives there woke up that day and found their wedding bands and an engagement ring missing, the Circuit Attorney's Office says.
The following day, according to a probable cause statement, surveillance cameras recorded Gilbert selling one of the rings, which the couple later identified as their property.
Gilbert, police say, eventually admitted that he had entered their home and taken their jewelry.
Here are the two probable cause statements from the Circuit Attorney's Office.
Probable Cause - Timothy Gilbert
Send feedback and tips to the author. Follow Sam Levin on Twitter at @SamTLevin.