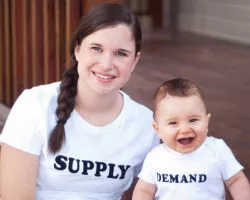 via Facebook
Missouri Breastfeeding Coalition
Here's a health-related bill from a Republican lawmaker in Missouri that just perhaps may not face intense backlash from women's rights groups across the state and country. It's State Senator Rob Schaaf's breast-feeding bill -- a proposal to give women better protections to nurse in public.
"It's all around a good thing when moms nurse their babies," Schaaf, a Republican who represents St. Joseph, tells Daily RFT. "We need to encourage them, not discourage them."
How exactly would his proposal support breast-feeding mothers in Missouri?
Senate Bill 87 makes it clear that the act of a mother breastfeeding a child or expressing breast milk in public is permitted.
No matter what local law says.
"There are some municipal ordinances against indecent exposure...and some of them are just inhibitory," he tells us. "Women are afraid, so they don't do it."
If passed, his bill would remove any doubt and provide clear protection for women who choose to breastfeed in public, he says.
As written, the bill, full version below, says:
To restrict or limit the right of a mother to breast-feed her child is discriminatory.

The act of a mother breast-feeding a child or expressing breast milk in a public or private location where the mother and child are otherwise authorized to be shall not: (1) Constitute sexual conduct or sexual contact as defined in section 566.010; or (2) Be considered an act of public indecency, indecent exposure, sexual conduct, lewd touching, or obscenity or any other similar term for purposes of state or municipal law.

A municipality shall not enact an ordinance prohibiting or restricting a mother from breast-feeding a child or expressing breast milk in a public or private location where the mother and child are otherwise authorized to be.
Schaaf is a family physician and says that breastfeeding is healthier than bottle-feeding, which he argues costs the state a lot of money due to the medical problems it more often creates.
"What we need to do is encourage women in every possible way to breastfeed their kids," he says. "As a physician, I feel like we just need to not inhibit them."
Continue for more of our interview with Rob Schaaf and the full draft bill.
Additionally, the act adds a nursing mother to the list of people entitled to be excused from jury duty, such that any breast-feeding mother, upon her request -- and with a written physician statement to the court -- would be excused.
Schaaf says that he originally began looking into this bill for this purpose -- but quickly realized that there were other breast-feeding hassles worth tackling in a more comprehensive bill.
Schaaf says he's hopeful there won't be a lot of opposition.
"It encourages good behavior," he says. "It's just kind of common sense."
Here's the full bill.
Send feedback and tips to the author. Follow Sam Levin on Twitter at @SamTLevin.