"Slayvery" flyer. Big version below.
The re-election campaign for Mayor Francis Slay is slamming a flyer for a local documentary called "Bootlicker," which depicts a black man down on his knees in front of Slay next to the word, "Slayvery."
With the primary election less than a month away, the battle for mayor has gotten very contentious -- with the issue of race at the center of some the debates as Board of Alderman President Lewis Reed looks to unseat the long-time mayor. Slay's campaign manager tells Daily RFT that this is the kind of offensive, divisive material that Reed's supporters continue to push -- while Team Reed reiterates that the candidate has absolutely nothing to do with the film or the flyer and says his opponent is getting desperate.
But what does the filmaker have to say about his controversial flyer?
First, here's the full image of the flyer, which is being passed around in advance of the February 20 screening of a film called "Bootlicker."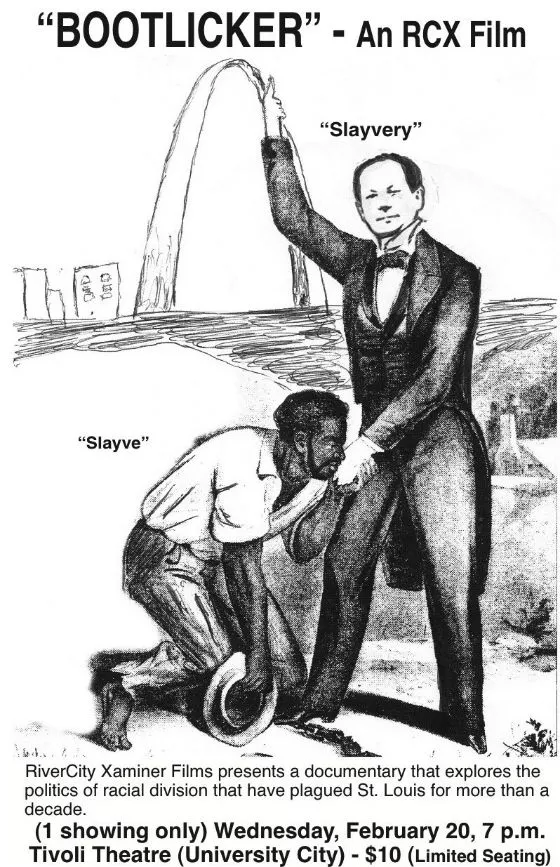 The flyer and the project is the brainchild of Terry Artis, the president and publisher of RiverCity Xaminer, an online black news organization in St. Louis. "Bootlicker" is RiverCity's first film.
Artis tells Daily RFT that the film -- which he wrote, edit, directed and produced -- explores racial tensions in the city, prompted by the controversial demotion of St. Louis Fire Chief Sherman George.
"The idea came from the politics of racial division that I saw really come to a head...when Chief Sherman George was demoted," Artis says. "Racial division exploded with that act."
Continue for more of our interview with Terry Artis and comments from the Slay and Reed campaigns.
Slay's three terms in office -- and the support he has gotten from black officials -- amount to a kind of slavery, Artis says.
"It actually is slavery once removed," he says. "I don't want anybody to diminish that this was a modern version of slavery. If they find that offensive, then I find that incredible.... I find it odd they would find that offensive."
He says of the flyer, "It's the idea of Slay utilizing blacks.... There's a black [man]...on his knees kissing the hand of Slay."
In the race for mayor, Slay has gotten support from some black leaders in the city -- and Artis says his film is targeting them and their backing of Slay.
These "so-called black leaders," he says, are "slayves," adding, "St. Louis is one big plantation. It is the Slay plantation."
Here's a trailer Artis sent us:
As is seen on the RiverCity website, his organization has formally endorsed Reed -- the first candidate they've ever endorsed, he says.
"My paper never endorses candidates," Artis says. "But he is the only likely candidate who can take us out of this racial division, because of a number of reasons. Lewis helped black and white firefighters come together. He seems really aimed at facing racial division head on."
Continue for comments from the Slay and Reed campaigns.
Richard Callow, campaign manager for Slay, says that he and his staff were taken aback when they saw the offensive flyer.
"It is an appalling contradiction to the Reed campaign's theme of 'One St. Louis' when they and their supporters demean, in the worst possible way, African Americans who support Mayor Slay," Callow tells Daily RFT, noting that this group includes Frankie Muse Freeman, a 96-year-old civil rights activist.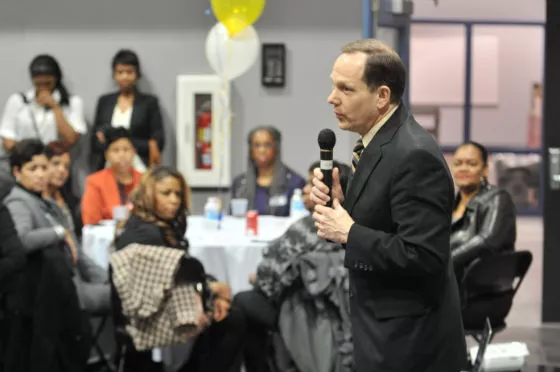 Slay Campaign
Francis Slay at a "Sisters for Slay" campaign event.
The Slay campaign has also gone after Reed for accepting donations from the "Grim Reaper of Radio" Bob Romanik, a convicted felon with ties to a major east side racketeering scandal.
But Glenn Burleigh, campaign manager for Reed, tells Daily RFT that, very simply, the campaign has nothing to do with the film or the flyer.
"Slay should take it up with the people responsible for it," he says.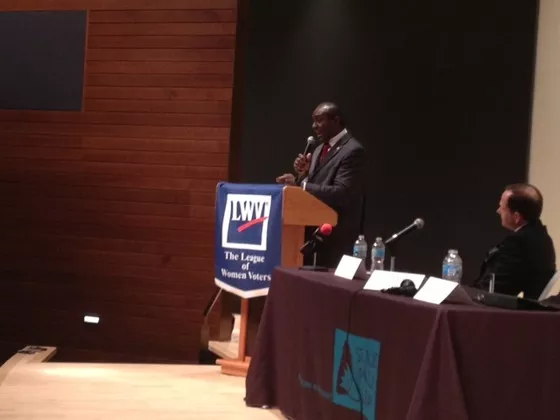 Sam Levin
Lewis Reed speaking at a recent debate as Francis Slay watches.
Asked if he condones the message of the flyer, Burleigh adds, "We don't have an official campaign position on this.... Personally, I think the graphic's in poor taste... It's just not ours."
He adds, "The Slay campaign is trying to focus negative attention on anything they can, because Lewis is too good of a candidate."
Send feedback and tips to the author. Follow Sam Levin on Twitter at @SamTLevin.