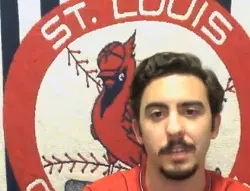 Dom Palumbo. Photos and videos below.
Dom Palumbo, a St. Louis native, loves baseball so much that he just might see every minute of every single game this season. And if all goes according to plan, he'll be watching the games from a swanky space in New York City.
Palumbo -- who has a healthy moustache and enjoys impersonating former Cardinal Keith Hernandez (see photos below) -- is now a finalist in the 2013 Major League Baseball "Fan Cave" contest, a promotional push by MLB that brings nine lucky folks from around the country to the Big Apple for the entire season. Winners get to meet star athletes, other actor and music celebs -- and generally have a pretty friggin' awesome year.
"It's every baseball fan's ultimate dream," Palumbo, 24, tells Daily RFT.
What does he have to do to win?
Palumbo, who works in graphic design and marketing, but has a background in comedy writing and improv, is officially one of fifty finalists in MLB's contest; thirty will get a chance to go to spring training in Arizona. And nine of those will be chosen to live in the Fan Cave.
Here's Palumbo's video submission, from his Fan Cave voting page:
The winners watch all the games, blog and tweet, make silly videos and meet famous people.
"It would be awesome," says Palumbo, who lives in Dogtown and grew up in St. Louis. "One of the big things that's really helping me is my moustache...and the Keith Hernandez thing."
What exactly is the Keith Hernandez thing?
On opening day last year, he wanted to do something outrageous -- and take advantage of a baseball outfit he had from his uncle, a former MLB player.
"I thought, 'What could I do that would be pretty funny, outside of wearing normal Cardinals gear?" he says. "I got on Google.... What player do I most look like?... Keith Hernandez popped up and I was instantly like, yep, I got to do it."
All photos courtesy of Dom Palumbo.
As soon as he showed up to the stadium in his outfit, people started approaching him and asking for autographs.
"I was in character the whole time," he says. "If someone called me Dom, I just ignored them."
He hopes the gimmick will help him earn a spot in the Fan Cave.
"This would be beyond my dreams, in terms of being a baseball fan and wanting to entertain people," he says, noting that he played baseball when he was younger. "This is the next best thing for a kid that doesn't have talent. I might as well use my talent of sitting back on the couch and watching baseball."
Continue for more photos and videos of Palumbo.
TV fame.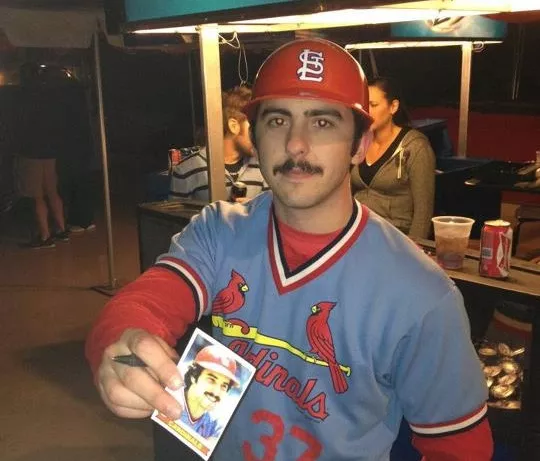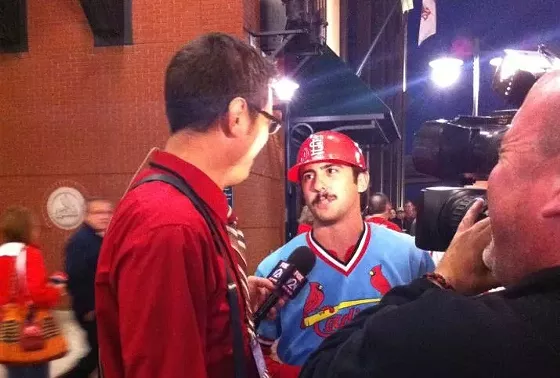 Continue for more photos.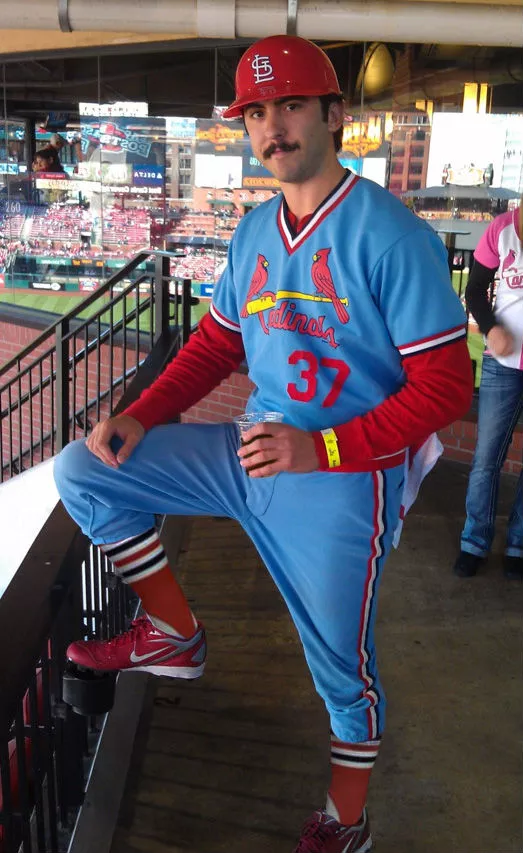 Here's a full news release on the contest.
Send feedback and tips to the author. Follow Sam Levin on Twitter at @SamTLevin.