Photos: Wikimedia Commons and Jennifer Silverberg
Mayweather (left) says Alexander is the front runner for a May fight. His Facebook followers say, "Alexander, who?!"
It's the talk of the boxing world this morning, though it's not generating the kind of buzz that either fighter would want.
Floyd Mayweather Jr. -- said to be the best pound-for-pound fighter in all of boxing -- announced on Facebook last night that his next bout will likely be a welterweight match against St. Louisan Devon Alexander.
Mayweather had no sooner posted his Facebook update before a commenter threw the first verbal punch. From there it became an online pile-on. Twelve hours later and Mayweather's update now has more than 3,200 comments, the vast majority unfavorable.
Here's a snippet: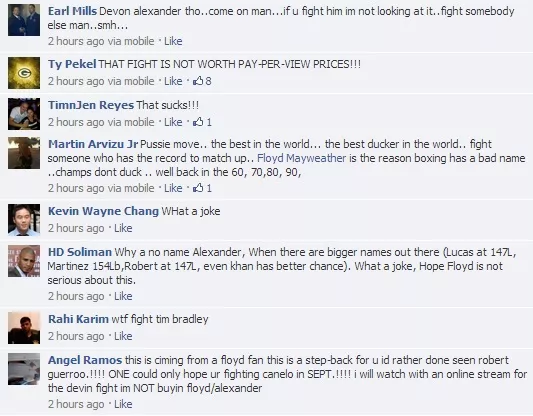 See also: -What Must Devon Alexander "The Great" Do To Live Up To His Nickname? - Devon Alexander RFT Archives The fight between Alexander (24-1, 13 KO's) and Mayweather (43-0, 26 KO's) would likely occur on May 4 in Las Vegas and be broadcast on pay-per-view.
Daily RFT has a message in to Alexander's trainer, Kevin Cunningham, for reaction to news of the fight. More information when/if we hear back from him.
For the time being, though, it seems that the boxing media is also somewhat disillusioned with the match up, suggesting that Mayweather strategically chose a fighter he's sure he can beat. Writes the Boxing News 24:
It was thought that Mayweather would be fighting WBC interim welterweight champion Robert "The Ghost" Guerrero on this date because Guerrero is a Mexican American, and Mayweather has selected the Mexican holiday Cinco de Mayo to fight on. It doesn't make a whole lot of sense for Mayweather to fight Alexander on that date, and I kind of wonder about the logic in that decision. There must have been something about Guerrero's southpaw style that Mayweather didn't like.
Adds
Yahoo Sports!
...
Now, if Alexander (24-1, 13 KOs) is, indeed, the front runner for the big-ticket Mayweather bout, all parties will have to deal with a fairly disappointed fan base...From a professional point of view, there's no comparing what Alexander can take from a Mayweather bout to what he gets from facing the relatively unknown and unproven Alexander in a much smaller event. Win, lose, or draw against Mayweather, Alexander's star will rise just from being in the same ring as Mayweather.
It's worth noting that Alexander has been on Mayweather's radar for at least a couple years. In August 2010 the champ was ringside in St. Louis to witness Alexander win a decision over Andriy Kotelnik at the Scottrade Center.