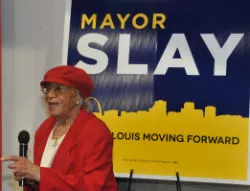 Slay Campaign
Frankie Muse Freeman, 96-year-old civil rights activist and Slay supporter at a recent event.
On Monday, we wrote about Mayor Francis Slay's latest fundraising efforts -- with an event featuring key Muslim leaders in the City of St. Louis. We now have details on another campaign initiative of the incumbent who will face off with Board of Alderman President Lewis Reed in the March Democratic primary.
It's called Sisters for Slay.
"We wanted him to see that he had African American women willing to come out and support," State Senator Jamilah Nasheed, now an outspoken surrogate for Slay, tells Daily RFT.
Who are The Sisters?
Sisters for Slay was the name of a campaign event last week and is a slogan that may recur on signs and at rallies as the race heats up in its final weeks. It's a notable effort in an election where the issue of race -- whether the candidates want it to or not -- has become a contentious topic of discussion. Slay is looking to take on an unprecedented fourth term as mayor of the city -- and a primary talking point of Reed is that he will be the candidate to unite "one St. Louis" and that under the Slay, the city has become more divided, north vs. south, black vs. white, etc.
Enter Sisters for Slay, an event which also featured Slay's actual sisters:
"This city is very, very polarized," says Nasheed, who helped organize the campaign event. "At some point, we are going to have to de-polarize the city and I truly believe the mayor is trying to do all he can to reach out across racial lines.... He hasn't just started, he's been doing it."
See Also: - Lewis Reed V. Francis Slay: Mayor Attacks Challenger For Out-of-State Donations - Lewis Reed: "Grim Reaper of Radio" Bob Romanik Top Donor To Slay Opponent
Frankie Muse Freeman, a 96-year-old civil rights activist and former NAACP attorney, spoke at the event.
The support of Nasheed has been a source of controversy, given that in 2007, she was a loud voice in an effort to recall Slay from office.
State Senator Jamilah Nasheed
"I'm very excited to cultivate a relationship with the mayor.... We haven't always been on the same page," she says, before making a reference to the quote, "Do I not destroy my enemies when I make them my friends?"
Continue for more on Sisters for Slay and more photos.
Nasheed says that it's all political nonsense when those who oppose Slay argue that he is a dividing force in the city.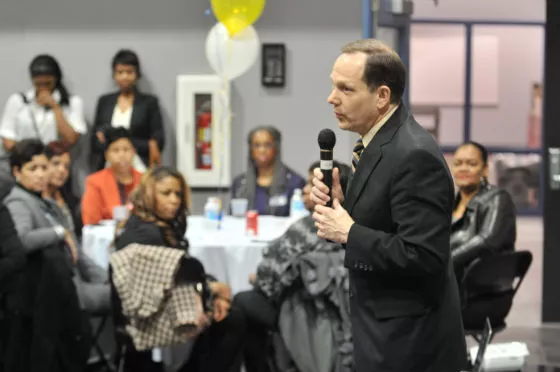 Slay Campaign
Francis Slay at Sisters for Slay event.
The Sisters for Slay event sparked some backlash with a St. Louis American column criticizing Nasheed and calling the mayor "desperate for a hook to get into the African-American community."
"You have provocateurs...that want to continue the racial divide...but we are gonna move this city forward," says Nasheed. "Race relations is and issue that came before Slay and I."
Slay Campaign
Sisters for Slay
Of the Sisters for Slay event, she says, "It was all women...and the majority were African American professionals, women that live and work in the city."
She adds, "I'm very confident that the mayor is going to make history."
Here's an invitation for the latest Sisters for Slay event.
And a Tweet of support:
Send feedback and tips to the author. Follow Sam Levin on Twitter at @SamTLevin.