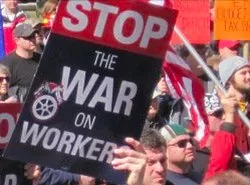 Labor groups in Missouri are headed to Jefferson City this morning to push back against a bill that they say is misleading -- and threatens the core of basic union organizing. The fight is over the state's right-to-work proposal, which has already garnered some backlash, despite the fact that it'll be tough to pass with a Democratic governor in charge.
But there are no guarantees, says Randy Kiser, a staff member of the AFL-CIO who is based in Missouri.
"We are not taking anything for granted," he tells Daily RFT. And that's why he and partnering organizations are headed to the Capitol.
As we reported last week, the legislation at stake is House Bill 77, full draft version below, which is sponsored by Republican Representative Eric Burlison.
via Facebook
Rep. Eric Burlison
GOP supporters say it is a proposal to promote "economic freedom and individual liberty," while opponents -- in Missouri and across the country -- have slammed right-to-work as a fundamentally anti-middle class idea.
What would the bill do?
The bill "specifies that no person as a condition or continuation of employment can be required to engage in or cease engaging in specified labor organization practices."
If passed, employees would have no requirements to join unions -- or pay dues.
"If you look at the states where there are right-to-work...the pay is lower. The health care is lower.... The health and safety record [is worse].... You don't have as many unions," says Kiser, a staffer locally with the American Federation of Labor-Congress of Industrial Organizations, or AFL-CIO.
Critics argue that the label "right-to-work" is an unfair one for a bill that is so anti-union.
Burlison, in a chat last week, told us that by allowing people to avoid unions or equivalent dues, it gives them the opportunity to remain independent from organizations they may not support. Right-to-work also, he says, gives states have a better chance at job growth -- but Kiser says the evidence is not there.
"You don't have something to counter corporate America," he says. "That's what this is all about. It's about weakening unions."
Continue for more of our interview with Randy Kiser and a full draft of the bill.
If workers don't join unions now, they still have to pay fees for the basic services the organizations provide. "We think it's very, very fair," Kiser says.
If those fees are removed, unions would suffer and would have to absorb those costs. That impacts everything from arbitration in a grievance case to collective bargaining, he says.
"This is politics as usual -- this is not about creating jobs," Kiser adds.
The hearing is today at 8 a.m. in House Hearing Room 3.
Here's a full draft of the bill.
Send feedback and tips to the author. Follow Sam Levin on Twitter at @SamTLevin.