via Reddit
Moo Cow is on the loose. Really.
The cow got out of the barn.
A criminal suspect who has the unfortunate nickname of "Moo Cow" has the even greater misfortune of having drivers throughout Illinois and Missouri see his baby-talk street name plastered on billboards calling for his arrest. But that's the price 24-year-old "John L. Harris AKA Moo Cow" has to pay for allegedly shooting and killing another man.
Daily RFT has confirmed with officials that this is not a joke. Moo Cow is wanted, armed and dangerous.
What did Moo Cow do?
A user on Reddit posted the photo of the billboard along with the title, "Meanwhile in East St. Louis."
Daily RFT traced the suspect to the O'Fallon, Illinois, Police Department. Patrick Feldhake, a detective there, confirmed to us that Harris (aka Moo Cow) is wanted for the homicide of Sanchez Garner of Cahokia. The shooting happened in Parkfield Terrace on January 11 and Harris was charged on January 13. His bond was set at one million.
"Suspect had made statements that he will not be arrested peacefully," says a St. Clair County Sheriff's Office alert sent to us.
Feldhake says the Major Case Squad of Greater St. Louis operates these wanted billboards and that it's possible there are many of them in the region calling for the arrest of Moo Cow. Users on Reddit say they've seen this one in Ballwin, in Wentzville and on I-70 in St. Louis, near the airport.
And for your reading pleasure, the good people of Reddit have also assembled these cow puns, because, why not:
Continue for an official alert on the suspect and a larger photo of the billboard.
The official alert.
Those numbers to call are 1-866-371-TIPS or 618-277-3500 ext 5718.
And a larger version of the billboard, via Reddit.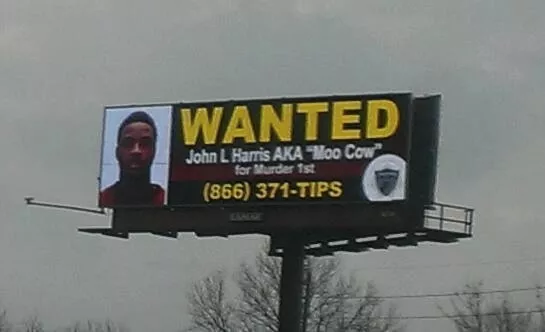 Send feedback and tips to the author. Follow Sam Levin on Twitter at @SamTLevin.