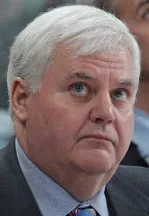 Ken Hitchcock, offensive genius?
The other day, I wrote a quick little piece about the Blues looking tired and hitting a bit of a wall in their last game Sunday night. Thanks to an error in utilizing the calendar function on my phone (I would like to blame Samsung for a grand conspiracy to make me look foolish, but it probably has more to do with me misreading a Thu as Tue somewhere along the way), I thought the Blues were playing Tuesday. You can imagine my confusion -- and embarrassment -- when I sat down that night to watch a hockey game and found absolutely no trace of one.
There is a silver lining to the cloud, though, in spite of me publicly looking stupid: the Blues actually did get their break. They got some much-needed rest, I got the time to write up a fuller piece about the state of the team's offense in the early going, everybody's happy. My dignity is but a small price to pay.
So, as I imagine the superior smirks of a million dozen readers, let's talk offense, shall we?
Last year's Blues squad was a paragon of defensive hockey, employing every trick in the Ken Hitchcock playbook to hold the opposition in check night after night. Top notch goalie play, tenacious defense, control of the middle of the ice. It was all there, every ingredient you could hope for. It's why the Note led the NHL in goals allowed last season, lapping the field in the all-important SYAD statistical model. (That's Shut Your Ass Down, for those of you not up on your acronyms.)
The offense, though, wasn't nearly so robust. The Blues weren't a bad offensive team, by any means. Just...so-so. There were plenty of teams that would have gladly traded places with the Blues, even just on offense. But all the same, there was precious little explosiveness in the Note's attack, and more than a few nights when the score looked a whole lot like a soccer game.
Part of that is the system, of course. When you buy into the Hitchcock, you've gotta take all that goes with it, after all. Tight, defensive hockey doesn't always lead to a huge number of scoring chances, especially those of the breakaway variety that create so much excitement. But, that's the price. You don't yell at a boa constrictor for not striking his prey all cobra crazy, you just admire the slow, methodical handiwork of an animal that manages to eat pretty much anything it wants, all without benefit of hands. In other words, you accept that, pretty or not, the method works.
Still, I would be lying if I didn't admit to occasionally wishing for a bit more excitement, a bit more offense, a bit more...oomph. Like some kind of snake that can strike at the speed of sound but also constricts while he's doing it. And has battery acid instead of venom. Also, it's a robot snake. That grants wishes. Sorry, what were we talking about again?
Oh, the offense. Well, guess what? So far this season, the Blues' offense has been easily the more impressive unit. And that has very little to do with the defense, and everything to do with the offense.
Through their first six games, the Blues have scored 24 goals, good for third-best in the NHL. Only Tampa Bay and San Jose have scored more than the Note, and both have the benefit of warmer weather adding to their goal total. (What? It's scientific fact! Look it up! Warm weather equals more goals.) Okay, so the weather isn't really much of a factor, but it sounded good, right?
Last season, the Blues averaged just 2.56 goals per game, which was puzzling when you looked at the talent level on the ice. System can account for some of that, but not all. There were simply times last year when the Blues just didn't execute the way it seemed they should on offense. This season's four goal per night average may not be quite sustainable, but I honestly think it's closer to the team's true talent level than what we saw for much of 2011-2012.
The biggest key to the Blues' offensive explosion so far this season is relatively easy to spot, and to describe. Actually, two keys.
1) Vladimir.
2) Tarasenko.
I think we all expected him to be good. But to see what the Tank has been able to do out of the gate is nothing short of amazing. Through his first six games, the Youth from Yaroslavl (okay, so I'm still working on his 1930s newspaper style nickname), has eight points, split evenly between goals and assists. The point total is fantastic, the balance is even better. The kid has pure skill on a level you don't often see, even in the NHL.
Tarasenko isn't the only player who has made big contributions to the offensive cause early, though. Kevin Shattenkirk is tied for the team lead in points with Tarasenko; the only difference is all eight of Shattenkirk's points have come on assists. Alex Pietrangelo is one behind the pair, with seven points on one goal and six assists.
If there's a secret to the Blues' early success, it's right there. (And it's probably not a secret, either). Of the top three players on the team in total points, two are defensemen. The Blues are consistently scoring within two passes from their defensemen, which should tell you plenty about both the quality of the players in question and the opportunistic nature of this team in general. This is a team that scores because they regularly get in behind the opposing defense, and takeaways lead to breakaways lead to quality scoring chances. It is, dare I say, pretty hockey.
As for the rest of the scoring, it is remarkably balanced, another strength of this team. David Perron, after a bit of a slow start, has come on strong of late and has six points. Andy McDonald, T.J. Ohsie, and Patrik Berglund all have five. Four more players have at least three. That's eleven players who have at least three points in the first six games. It's a beautifully balanced attack, and one with very few real weaknesses.
Only time will tell if this early offensive output will continue; personally, I think the team will settle in a little below this pace, if only because opposing teams are going to adjust their game plans going up against the Blues. Even so, the early returns suggest this isn't a fluky good start, the result of a streak of hot shooting. This is, so far, the idealized version of the hockey we saw last year. The offense flows from the defense; the pressure put on the opposition creates mistakes, turnovers, and scoring chances. And once you create the scoring chances, the talent of the players will take care of the rest.
Now, consulting the calendar on my phone, I see the baseball season officially kicks off tomorrow, with Rams training camp opening up this weekend. I need to get something written about both of those as soon as possible, I suppose...