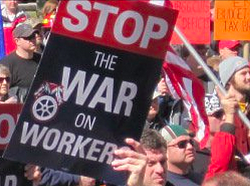 Republican Representative Eric Burlison knows it's not all that likely he will have much success with his controversial "right-to-work" bill -- a proposal to ban labor union requirements, but that is not stopping him from pushing the bill.
"This is about economic freedom and individual liberty," Burlison tells Daily RFT. "You should be able to go out and pursue any line of work...without having to join and pay dues to an association in which you disagree with their philosophy."
The left has slammed this kind of legislation across the country -- and with Governor Jay Nixon in charge, Burlison faces serious obstacles in Missouri.
So why's he moving forward?
House Bill 77, full draft version below, "specifies that no person as a condition or continuation of employment can be required to engage in or cease engaging in specified labor organization practices."
See Also: - Abortion: NARAL Pro-Choice Missouri Criticizes Tax Credits for Controversial Centers - Roy Blunt on Missouri Gun Control Proposal: "Big Step Away From The Second Amendment"
The bill says that employees can't be required to become a member of a labor organization and pay dues or pay equivalent amounts to third parties of unions.
Conservative supporters of right-to-work, which recently passed in Michigan under a Republic governor, argue that workers in any industry shouldn't be forced to join any union if they don't want to. But opponents of this kind of measure say that right-to-work can erode fundamental labor protections that unions can provide.
"Because the union collectively bargains for everybody, they say they have the right to collect an association fee," Burlison says.
via Facebook
Representative Eric Burlison
What he and some of his GOP colleagues want to do, he explains, is "empower an employee to say, 'I don't want to be a member of the union.'... You can bargain your own wage, your own benefits."
It's good for the economy, Burlison argues.
"For me, this is about job abundance. The states that have passed right-to-work, they are the only states that are growing in jobs. States that are surrounding us are growing faster...[and] their unemployment rate is much better than in Missouri," he says. "If you want jobs...it's very clear you have to pass right-to-work."
Continue for more of our interview with Eric Burlison and a full draft of the bill.
In response to criticisms that this kind of proposal hurts labor rights, he says, "I would rather be in a state where I have an abundance of job opportunities rather than work in a state where I have few, if no, job opportunities."
Still, he admits, "It's going to be a very difficult road."
Here's the full draft bill.
More from our Politics archive: "Casey Guernsey: Missouri Overwhelmingly Wants to Block Obama's Gun Orders"
Follow Sam Levin on Twitter at @SamTLevin. E-mail the author at Sam.Levin@RiverfrontTimes.com.