Too many residents are crowding into Belleville apartments in violation of the law -- and creating serious safety hazards. So say some officials in the Illinois city who are looking for a way to crack down on overcrowding beyond just enforcing current occupancy limits.
One idea under consideration? Mandatory reporting of birth certificates.
The idea has sparked some controversy, with opponents questioning whether it is fair to force families to show their birth certificates to city officials.
And would it work?
As Belleville Alderman Phil Elmore tells Daily RFT, "Is it the one-year old newborn that is causing this problem?"
See Also: - Executive Inn in Belleville is Apparently the Worst Hotel Ever - Belleville Man's Ashes To Be Scattered On James Dean's Grave
The proposal, official document on view below, faced some push back last week with a Fox 2 report saying that some saw the policy as a racist one.
Elmore tells us that there has been some debate -- and that the overcrowding concerns are very legitimate. He does not, however, think there are any merits to accusations of racism, but also says the idea as currently proposed doesn't seem to make a whole lot of sense.
"The problem is overcrowding, which is a safety hazard for the Fire Department and also creates havoc for neighborhoods," says Elmore, who is an alderman for the seventh ward and is also currently running for mayor. "It is an issue of an economy that is forcing people to live together -- more and more extended family living under the same roof. The simple fact of the matter is...people can't afford a house...so they get four people to live with them."
The controversial part of the ordinance amendment proposal says:
In any case where the birth or adoption of a child is the cause of a change in occupancy or the birth or adoption of a child causes the number of persons to exceed the maximum occupancy permitted in this section.... An updated occupancy permit must be obtained within one year of the birth or adoption of the child. No fee and no inspection shall be required for the issuance of a new occupancy permit upon the birth or adoption of a child upon presentation of a birth certificate listing one of the authorized occupants as the parent of said child.
Elmore says that, as written, it appears the policy would require parents to show a birth certificate to officials under any circumstance -- even if the birth did not put the household above occupancy limits.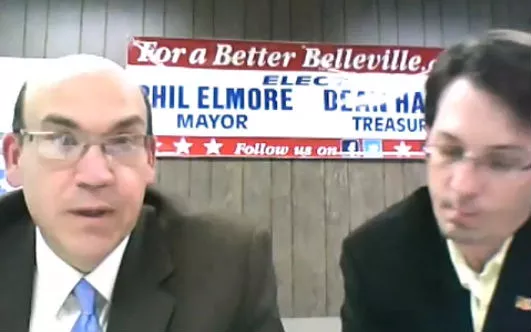 via YouTube
Phil Elmore, left.
"It does not really appropriately fit as part of the solution," Elmore says. "We've just missed the mark."
Elmore says it is not clear what the punishment would be for not handing over a copy of a birth certificate.
Continue for more details on the proposal and a Belleville document outlining the changes.
For now, the idea has been tabled and sent back to a Board of Aldermen committee for review next month.
Elmore says that if the current occupancy limits were actually followed, the problem could be curbed.
"We do have a housing occupancy permit," he says. "A solution may be to enforce the existing residency requirements more stringently."
Here's the proposal.
Belleville Property Maintenance Code
More from our News archive: "St. Louis Homicides: Weekend of Violence Claims Three Men -- Nos. 12 - 14 of 2013"
Follow Sam Levin on Twitter at @SamTLevin. E-mail the author at Sam.Levin@RiverfrontTimes.com.