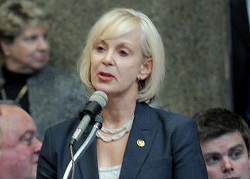 staceynewman.com
Representative Stacey Newman
Gun debates are alive and well in Missouri and Representative Stacey Newman, a Democrat, is currently promoting her bill that would require all sales or transfers of firearms to go through a licensed dealer.
She is also, however, speaking out about some Republican proposals that are directly in opposition to the president's efforts and have put Missouri in the spotlight.
In short, she tells Daily RFT, "It's so nuts. It's so crazy."
What's so absurd about the GOP idea?
See Also: - Roy Blunt on Gun Control Bill: "Big Step Away From The Second Amendment" - Maria Chappelle-Nadal: Parents Must Notify Schools If They Own Firearms
As Newman is pushing for stricter background checks in the state -- a legislative idea that mirrors one of the priorities of President Obama's gun control proposal -- some Republican lawmakers here have been advocating for legislation that would essentially allow Missouri to ignore federal policies that hey don't like.
The initiative, which has gotten a great deal of attention, is House Bill 170 from Republican Representative Casey Guernsey, with cosponsorship from Rep. Paul Curtman.
The bill:
Specifies that a federal official must not enforce a federal firearm law when the firearm is manufactured and remains in the state and that any new federal law banning or restricting ownership of a semi-automatic firearm is unenforceable.
As the debate on the national level continues, it is unclear what this state law here could accomplish if passed and how it would relate to the specifics of any federal changes. (Daily RFT left a message for Guernsey this morning).
Supporters of stricter gun control argue that they are just trying to put in place commonsense policies that do not conflict with Second Amendment rights, but do make it more difficult for criminals to access guns.
But gun advocates, who have been vocal in Missouri, are pushing back with these kinds of proposals -- arguing that they are not willing to compromise on the fundamental right to bear arms.
"Could you imagine anything crazier?" Newman tells Daily RFT, in reference to the GOP bill to bypass any new federal laws that involve bans or restrictions. "That's a bill that they think is actually gonna fly?... All you are doing is keeping trial lawyers in practice."
Newman argues that Missouri could not simply criminalize the enforcement of federal policies.
Meanwhile, she says she is hopeful about the prospects of her bill, which would stop individuals from purchasing guns without background checks -- an effort that she and supporters argue would reduce the risk of weapons getting into the hands of the wrong people.
"Right now there is a loophole in the background checks. Only licensed dealers are required to submit paper work," says Newman, pointing out that around 40 percent of sales across the country don't go through these checks. "And the internet has become a place for people to purchase [guns]."
Continue for more details on Stacey Newman's bill and full drafts of both pieces of legislation.
Newman says that of all the gun control measures under discussion nationally, this is probably the most popular. (U.S. Senator Roy Blunt, a Republican, recently said he was open to stricter background check policies).
"It is the least controversial.... There is wide support," says Newman, adding, "It doesn't affect lawful gun owners."
And those who support gun rights often are in favor of better background checks, she says, even if the National Rifle Association officially is not.
Of the NRA, she says, "Their objective is more guns.... It's profit."
More from our Politics archive: "Undocumented Immigrants: Illinois Driver's License Bill Now Law, Fourth State With Policy"
Follow Sam Levin on Twitter at @SamTLevin. E-mail the author at [email protected].