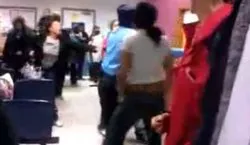 Screenshot of East St. Louis brawl. Video below.
Last week, a brawl that broke out in an Illinois food stamp office got a lot of attention -- in part, because the chaotic fight was caught in a blurry cell phone video that shows several women hitting each other and security guards struggling to keep the situation under control.
Daily RFT spoke with Michael Floore, the East St. Louis chief of police, who says the investigation into the matter would be further along if people involved in the incident would come forward and talk to the police.
See Also: - Masked Gunmen Church Robbery: Thieves Enter East St. Louis Church During Service - Guns: Christian County Sheriff Wants to Arm Missouri Teachers, Increase School Safety
But in the meantime, he says, it is time for better security measures -- and next time, officials on site should make arrests.
Here's the video of the brawl.
"They do not have...a metal detector in place, and they need one of those," Floore tells us. "And the...security guards should have arrested the parties."
He explains that a private security firm operates at this Department of Human Services office in East St. Louis and says the guards on site were reluctant to make any arrests and hold those responsible for the brawl.
"That's their purpose," Floore says. "They need to be able to detain and arrest people."
But they didn't in this case, and the women involved left the scene, he says.
"We're gonna be talking with the security firm," Floore adds.
Floore says the department is trying to get everyone involved to come to the police and tell their versions of what happened. But since he told reporters that those who participated in the fight could face arrest, they have not been in contact with his office, he says.
If he were a victim in this fight, Floore adds, "I'd be busting the police door down trying to tell my side of the story."
More from our Community archive: "Serial Arson in Benton Park?"
Follow Sam Levin on Twitter at @SamTLevin. E-mail the author at Sam.Levin@RiverfrontTimes.com.