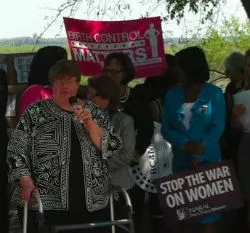 via prochoicemissouri.org
So-called crisis pregnancy centers give out all kinds of false information in Missouri -- fueled at times by religious doctrine and designed to intimidate women from seeking abortions.
At least that is the argument of NARAL Pro-Choice Missouri, which is speaking out against the potential public funding through tax credits of these allegedly "fake centers." The question, pro-choice advocates say, is whether government in any way should back organizations that spread lies and ignore science.
See Also: - BREAKING: Birth Control Leads to Fewer Abortions. Also, Sky is Blue - "Abortion Survivor" Ad Debuts in Missouri, Makes Confusing Claims About Obama's Record
But due to the wide-ranging nature of the bill in question, the group's stance is more complex than direct opposition.
In fact, Pamela Sumners, executive director of NARAL Pro-Choice Missouri, says that, her group isn't fighting back against the overall tax credit bill that includes funding for these controversial centers.
House Bill 87, on full view below, relates to a group of "benevolent tax credits." Simply put, the legislation renews a series of credits that expired over the summer after the General Assembly did not take up the measure.
The proposal includes the reauthorization of a Children in Crisis tax credit, an extension of one component of a disability access tax credit and a reauthorization of income tax credit provisions for food pantry donations.
What the bill also does, however, is reauthorize provisions regarding tax credits for contributions made to "pregnancy resource centers."
via Facebook
Pamela Sumners.
"It's a huge package -- that makes it very difficult for some of our friends to vote against it," Sumners tells Daily RFT. "We don't blame them."
She did stop by a public hearing on the matter last week to explain to lawmakers the problem with these centers, outlined in detail in a report below that says 92 percent of the centers in a study the group conducted refused to tell women where they could obtain birth control.
The centers "hand out materials that say there is a link between breast cancer and abortion and there isn't," she says. "They say there's a link between infertility and abortion and there isn't."
Sumners says, "It just goes on and on and on...and these are things that are medically not true."
Continue for our interview with the bill's Republican sponsor.
This kind of misinformation can increase the health risks to women if they end up delaying, she notes, adding, "You can say whatever you want. You can worship whatever deity you want.... It's not like we have religious beef other than the public funding beef."
She says, "If someone delays your path, you may no longer be able to get an abortion."
Sumners says she just wants the facts to be clear.
Representative Eric Burlison, a Republican who is sponsoring the benevolent tax credit bill, says that it is not the responsibility of elected officials to determine whether care centers are giving proper medical facts.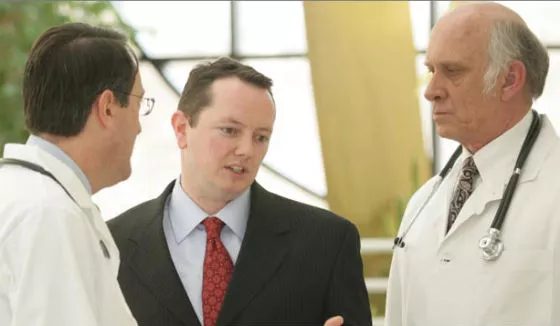 "If someone is providing false information, they can lose their license," he tells Daily RFT, noting that there are medical boards charged with this oversight. "I would say that when politicians do get involved in this kind of thing, that's when things go wrong."
Politicians can't pretend to be doctors, he argues.
His bill had a hearing last week and will eventually go to the House floor -- and is likely to pass, he says. A parallel Senate bill also moved forward yesterday.
This legislative effort, he says, is about supporting nonprofits and donations.
"We as elected officials...empower taxpayers," Burlison says. "If you have a charitable spirit, we want to encourage you to give to charities you believe in."
Continue for the full NARAL report and draft of the bill.
Investigation into Crisis Pregnancy Centers
More from our Politics archive: "Lewis Reed: Francis Slay Opponent More Than Doubles Donations Over Weekend"
Follow Sam Levin on Twitter at @SamTLevin. E-mail the author at Sam.Levin@RiverfrontTimes.com.