Jason Stoff
2013 St. Louis Auto Show: Mini-er than ever.
I have been attending the St. Louis Auto Show for probably twenty years now. I can recall back when the Caprice-based Impala was a concept. The Viper and Sunfire as well. The Acura NSX. And I saw them all, live and in person. Over acres and acres of jam-packed floor space. Every manufacturer and nearly every model was represented.
Oh, how times have changed.
Walking around the floor of this year's St. Louis Auto Show, I first noticed the seemingly sparse spacing of the vehicles on display. It appeared on first blush that there were more show spaces than there were participants to fill them.
The second and far more glaring issue was the lack of participation of some of the big names in luxury. Audi was there as were Cadillac and Lexus. Even Bentley of St. Louis had some representation along the "Million Dollar Mile." But no BMW. No Infiniti. No Jaguar. No Mercedes. No Porsche. No Rover. I cannot recall a St. Louis Auto Show in recent memory where BMW was not in attendance. And the only Ferrari I saw was in the parking garage. Interestingly, while Nissan was there with a relatively large spread, its luxury brand -- Infinity -- was conspicuously absent.
Moreover, there was a single -- meaning one -- concept car: the Ford (Fusion) Talledega. That was it. No flashy turntable-concepts and fewer models and midway vendors than I can recall ever. And there were virtually no high-end manufacturers. It was both peculiar and disheartening. One might be quick to blame the economy, except that last year's show was larger, while the economy was worse.
Moreover, while overall auto sales are not blisteringly hot, they have improved as well, year over year. I was told some of the issues with the moderate size and lack of participation in this year's show had to do with funding constraints due to the Detroit North American Auto Show being the same weekend. Let's hope that is, in fact, the crux of the matter and things improve for next year.
On the flip side, Ford and Lincoln's displays just seem to grow and grow year-over-year. This year they took over parts of two different display halls. And there were a great number of other really cool interest areas, most notably the outdoor "drift" exhibition. Anyone willing to drift their race car in the rain with spectators packed in tight is worthy of some kind of award for sheer moxie. The display of electric cars was a nifty twist, too, as was the ability -- albeit at a blistering 3-5 mph -- to take one around an enclosed track area. And then there was the Tesla Model S. It was high on my list of the "Top 10 Coolest (and Craziest) Vehicles of the 2013 St. Louis Auto Show."
The others? Here they are in descending order. 10. A Tie to My Youth: 2013 SRT Viper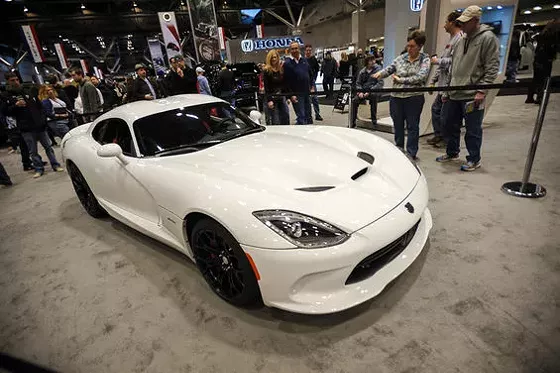 I saw the original Viper concept way back at the 1991 St. Louis International Auto Show. It was bold. It was bad. It was the meanest piece of machinery either Carroll Shelby or Detroit ever conceived. The supercar universe had its ass handed to it with a car dreamed up by a chicken farmer and stuffed with a V-10 truck engine.
It's arguably better, and closer now to those 21-year-old roots than it has been in years. It makes an astonishing 640 hp, and does so with a sort of back-alley air of brutality that just makes you stand up and take notice even when the car is parked, locked and behind ropes. Mr. Shelby passed away last year. When he did, a part of my youth died with him. This car stands in testament to his dreams and skills as an engineer. And the Viper always brings me back to that first concept. I looked at my dad, eyes wide, and told him, "Dad, they will build this. They have to build this." They did. And now, two decades later, the Viper still stands as testament to the raw brutality one man's dreams can create.
9. The Testarossa of a New Generation: 2013 Audi R8 V-10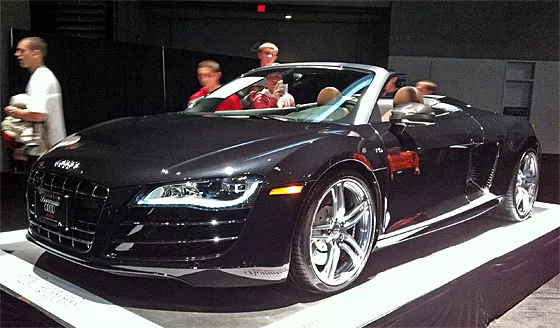 The Audi R8 V-10 is quite possibly the most underrated of super-cars. It can go toe-to-toe with the Viper, is within a half second of the 0-60 times of the Lamborghini Aventador and the Koenigsegg Agera. Part of the problem is...it's an Audi, a.k.a. the luxury badge engineering section of VW. So, as supremely capable as it is, as lauded as it is in the automotive press, and as relatively inexpensive as it is (less than half the price of the aforementioned Lambo), it just gets over-looked.
Which is a shame, really. Because it is quirky and kitschy and funky in all the same ways that the Ferrari Testarossa and the Lamborghini Diablo were when I was a kid. Some boy somewhere has a poster of this car hanging on the back of his closet door. And that brings me back. The ten-year-old me just loves this car.
8. The Return of Bang for the Buck: 2013 Mustang Boss 302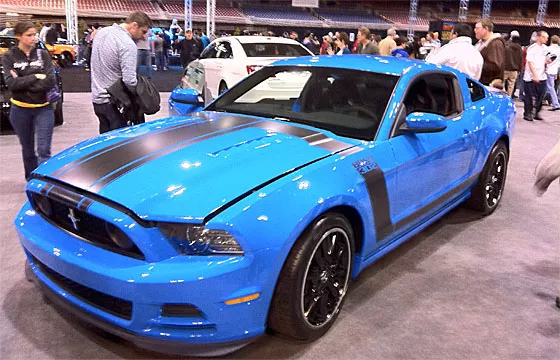 The Boss is simply bad-ass. There is no other way to describe the "mid-level" performance Mustang. It does not have the Cobra badge, nor does it have the Cobra's 600+hp. However, the Boss also comes in at a "moderate" $41K. And it still comes with 440 hp, and a few go-fast goodies that do not come on the $68K Shelby such as strut braces and manually adjustable strut valving. That's right. Pull a rubber boot off the tip of the strut, and with a small screw driver, you can change your morning commute from mild to wild in two minutes flat.
Yes, $41K is a lot of change. But if you have the choice of the Camaro, the Mustang or the Challenger in that price range, the 'Stang is the only one that allows you to play with the suspension. (By design. From the factory. Under warranty.)
That, friends, is called bang for the buck.
7. "They want how much?": 2013 Toyota Sequoia Platinum
I chose this one as a statement. Auto industry: Do you want to know why you are in trouble? Because you are pricing yourself out of existence.
To answer the question: $64,255. That is how much this competitor to the GMC Yukon Denali will set you back. For a Toyota. And believe it or not, the Toyota Land Cruiser will set you back $15-$20K more. I asked a Toyota product specialist to justify the $65K price tag for the Sequoia Platinum over, say, the comparably equipped and comparably capable Denali which priced in at approximately $44K. "It has a lot of technology," he told me. A lot of which he just didn't know if I had the time for him to get into. People buy this as a statement, he said. A statement of what, I am still not sure.
Don't get me wrong. It's a nice truck. But the Denali was -- in every way I could see -- just as nice. And for the same cost, you could by a Denali, and a Malibu. I sat and gauged people's reaction when they read the sticker price. The only place where the facial expressions were more perplexed was at the Hyundai display, where they were asking a similar price for the Equus. Sixty-five large in your pocket? Forget Range Rover or Mercedes, Jaguar or Cadillac or Lincoln. Buy a Toyota. Or perhaps a Hyundai. Um...or not.
Still to come: The new 'Vette, Ford Fusion and, yes, a truly bitchin' Camaro. 6. The Car That Changed My Mind: 2013 Corvette ZR-1
As a rule, I tend to hate 'Vettes. Everything from 1975 on just has always rubbed me the wrong way. And for a lot of car guys that is sacrilege. That is like saying you hate '57 Chevys and bubblegum pop. But the lines, the design, the (until the Gen 6) wimpy power numbers, and moreover, the way in which the Corvette had so drastically veered away from it's humble roots as a small, light, nimble roadster just rubbed me the wrong way. The fact that these, these things had such a cult-like following just added to my distaste of all things 'Vette.
Meeting the completely redesigned 2013 ZR1 changed my mind. Drastically. The interior is all-new, and is a caliber unto itself. Finally. The car has been shortened, made even more powerful, and has by all means entered unequivocally into the supercar ranks. Now, is it a roadster, like say the Solstice or the Sky were? No. Should it be? Yes, in my world. Will it ever be that car again, as it was in 1953? No. So, for what it is, what it has become through evolution, the new Corvette has my admiration. Consider my mind changed. That rarely happens.
5. The Most Extreme Makeover: 2013 Ford Fusion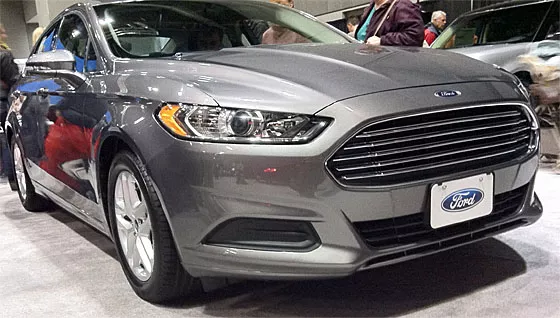 I have driven the previous iteration of the 4-cylinder Ford Fusion. I thought it was a nice car. It felt substantial, was decently laid out, and handled - I kid you not - at least as well as a BMW 3-series if not better. But it was exceedingly boring to look at, and at least the four-banger could not manage to get out of its own way going down hill with a tail wind. It was just an abominable car to be stuck with where people could see you or would need you to get out of their way quickly.
The new Fusion is an entirely different, entirely new animal. Several trims of the 4-cylinder range from 175 hp up to 230 hp. The looks alone are stunning, and the words Jaguar and Aston Martin were heard many times over near the Fusion display. And yes, while imitation is the sincerest form of flattery, this form of imitation works, and works very well. The best part is the price point at $24K. That is 24 large for a very nicely equipped four-door family sedan with great looks. This one is a true home run for Ford. Bravo.
4. Miss Popularity: 2013 Camaro ZL-1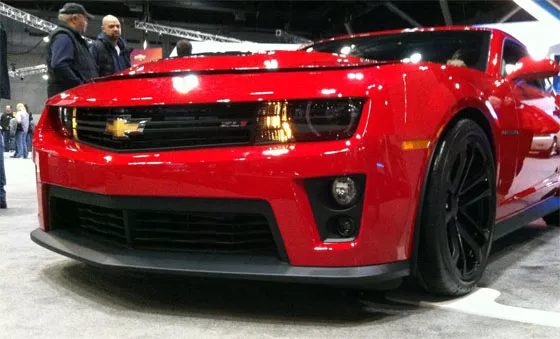 This car drew a crowd, which reminded me of the bygone days of the Auto Show where there would be several cars that drew constant and consistent crowds all day, every day. This year those pretty girls at the dance were few and far between. The R8, the ZR1, the Fusion, and above them all, this car. The ZL1 just...it just is America. I know Mustang and Mopar folks are going to scream and howl, but admit it. Go abroad and talk cars, go anywhere inside the U.S. and talk about cars and say the word "Camaro." Watch what happens. It's seeped into our DNA. And I, for a long time, was an F-body hater. Much like the Corvette, the styling and stifled performance of the Camaro and Firebirds of the day made me just cringe. But the renewed body style of the Gen 6 Camaro, coupled with the go-fast, stop-hard and turn-quick goodies stuffed into the ZL1 - not to mention the stunning stereo - made this the most popular car of the show, hands down.
Oh, and I want one.
Up next: The cutest car (a man can drive), the Lamborghini, and electric perfection. 3. The Cutest Car a Man Can Drive: 2013 Fiat 500 Abarth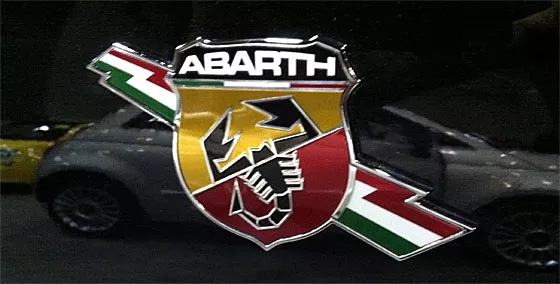 The Fiat 500, or Cinquecento, is cute. A kind of bubbly Italian cute that seeps into your bloodstream like a toxin. God, you just want to hate the things. They are like some steroid-infused mutant R/C car with space to fit two moderately-sized humans semi-comfortably.
But the Abarth is different with one-third more horsepower than the standard 500 and a proper manual transmission. I have driven an Abarth, and the car is just amazing. It handled like glue on paper. And the exhaust note is like Pavarotti to a car geek. Yes, it's cute. Yes it's bubbly and fun and alive in ways only the Italians can be. But it is also at the same time very serious, quick and poised. Plus, if Charlie Sheen wants one, that is man enough for me. Yes, you can drive the 500 Abarth, and keep your man card.
2. The Most Street-Legal Horsepower Under One Hood: 2013 Lamborghini Aventador LP700-4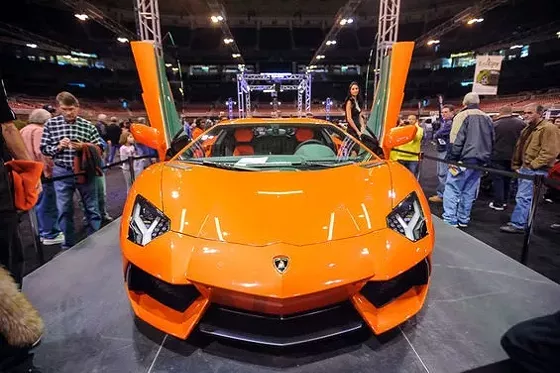 There were a lot of very powerful, very potent cars at the auto show. But of all the street-legal, non-racecar vehicles on display, this beast from the tractor maker in Sant'Agata owned the rights to the most powerful production car at the show. That is 700 horsepower, which propels the $387,000 Aventador from 0-60 in 2.9 seconds. I am not sure what else can be said about this animal. The styling is over the top. The performance is astonishing, not that I will ever get to see so for myself. And the fit and finish was far better than I had expected. Overall, not only was this the single most powerful street-legal vehicle of the show, it also had the biggest price tag, most flash, and highest platform. It was all about the flash.
Like the Audi, this introduced a certain flair to the show that gets kids interested in cars. So while I do not tend to drool over supercars - and especially Lamborghini - like I used to as a kid, the next six-year-old Carroll Shelby or Danica Patrick could be right there -- ready to fall in love. What better to fall in love with? This is the Diablo of a new generation. Those closet doors not sporting a poster of the R8 should be sporting a poster of this stunner.
1. The Motor Trend Car of the Year: 2013 Tesla Model S
Hear the words "electric car" and what do you think of? Prius? Volt? But what if I said a BMW M5 or Maserati Quattroporte or Dodge Viper or CTS-V or Corvette ZR-1? Because this plug-in, all-electric, four-door, six-seat family sedan can out accelerate the BMW, the Viper and the Maserati. The 0-60 time is 4.4 seconds per Tesla. Motor Trend actually clocked it a shade faster at 3.9 seconds. And it does not use a drop of fuel. Range is approximately 265 miles with the 85 kilowatt batteries, so you could charge the car when you get home, and drive all day with no issues. The price tag hovers around $72K. But that is well less than all of the above, save maybe for the CTS-V. The fit and finish and quality of engineering and craftsmanship is just stunning. I spent a good 40 minutes looking this car over, and I just never ran out of "wow" moments. From the touch-screen interior to the purchasing and pricing models to the warranty, I -- simply put -- want one.
This is the future of automobiles. And if we are going to be forced to give up the Lambos and 'Vettes and BOSS 302s for this -- if it is the future of cars for the kid I am raising now to be a car guy -- I can sleep well at night. Because this is not only a machine for people who love machines, but it is a breath of fresh air for all of us. Literally. It is a perfect melding of both worlds. No wonder it's Motor Trend's Car of the Year. And my No. 1.