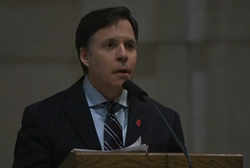 Bob Costas delivering his eulogy for Stan Musial. Footage below.
Since news broke that St. Louis icon Stan Musial has died, fans have had many opportunities to pay tribute to the late, great Cardinal.
And on Saturday, fans got to say a final goodbye to the baseball legend, packed inside the Cathedral Basilica in St. Louis for Stan the Man's public funeral service.
The ceremony included an emotional eulogy, full video on view below, from sportscaster Bob Costas, who said, "The bond and attachment between this player and this city is unique and lasting."
See Also: - Stan Musial Bridge: Momentum Builds to Name Missouri-Illinois Connection After Late Cardinal - Cardinals 101: This Week's Bestseller List
Here's footage of Costas' full speech, courtesy of the Cardinals.
Some highlights:
"Stan's career and life were both too vast and too meaningful to all of those here today and to millions more here in spirit for any one person to sum it all up. But, like all of you, my own life was touched by Stan Musial."

"The bond and attachment between this player and this city is unique and lasting."

Quoting Mickey Mantle: "I had as much ability as Stan maybe more. nobody had more power than me. nobody could run any faster than me. But stan was a better player than me, because he's a better than me. because he got everything out of his life and out of his ability that he could and he'll never have to live with all the regret that I live with."

Quoting Harry Cara: "'Take a look, fans. Take a good, long look. Remember the swing and the stance. We won't see his like again.' Harry was right. We never have and we never will."
And here's footage of the speech from Martin Schwarze, Musial's son-in-law.
Continue for more videos from Saturday's service.
Wreath-laying ceremony at Busch Stadium.
Remembering 'Stan the Man'
Stan Musial's grandson, Andrew Edmonds
Cardinals Chairman and CEO Bill DeWitt Jr.
More from our Sports archive: "Cards Re-Sign Jason Motte, Avoid Arbitration"
Follow Sam Levin on Twitter at @SamTLevin. E-mail the author at Sam.Levin@RiverfrontTimes.com.