Should Missouri residents be required to show photo identification if they want to vote in elections?
Yes indeed, says Representative Tony Dugger, a Republican from Hartville, who is pushing not one, but two different measures to try and create stricter requirements for voters in Missouri. The effort requires two bills, because Dugger would need to change the state constitution. And next general election, voters might have that opportunity.
See Also: - Voting Group Challenges State Senate Election; Wash. U. Students Turned Away - Don't Worry, Peter Kinder: The UN Won't Suppress GOP Votes in Missouri
The proposals, on full view below and set for a hearing tomorrow, are already sparking controversy with opponents slamming the bills as clear conservative tactics to suppress legitimate voters.
"This is a way of controlling the outcomes of elections," Democratic Representative Stacey Newman, an opponent of the bill and the House Elections Committee's ranking minority member, tells Daily RFT. "We are hearing story after story of people who have been voting just fine for a number of years and will no longer be able to vote. In my book, that's voter suppression."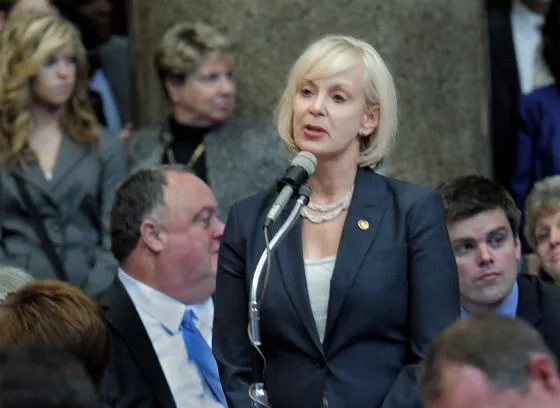 staceynewman.com
Rep. Stacey Newman
House Bill 48 is a measure that would require voters to submit specified forms of photo identification in order to vote in a public election.
And House Joint Resolution 5, also sponsored by Representative Dugger, puts forth the accompanying constitutional amendment. Through this process, Dugger hopes to amend the state constitution to mandate this kind of photo proof requirement with a voter-approved measure. House Bill 48 would then be the legislation to enact the policy change.
Members of the public can offer feedback on both bills tomorrow morning at a public hearing, which has already garnered a great deal of controversy. A hearing initially scheduled for 6:45 a.m. was -- after Secretary of State Jason Kander, a Democrat, slammed the early-morning hearing time -- pushed back to 8 a.m.
The house bill says, in part:
Specifies that a person seeking to vote in a public election must establish his or her identity and eligibility to vote as a United States citizen lawfully residing in this state by presenting to election officials one of the specified forms of personal identification that contains his or her photograph. All costs incurred by an election authority to implement the photo identification requirement must be reimbursed by the state. If there is no state appropriation and distribution of funds, the election authority must not enforce the photo identification requirement.
Photo requirement proposals sparked a lot of criticism this past election cycle, with Democrats accusing Republican lawmakers of pushing a targeted voter suppression agenda by making it harder for people, especially minorities, to vote.
Dugger, who Daily RFT left a message for this morning, has drafted the bill to allow voters to cast what is called a "provisional ballot" if they don't have photo ID -- and then return within three days after the election with proper documents. In that case, the provisional ballot would be retroactively counted.
That fact, however, is not quieting critics.
Continue for more of our interview with Stacey Newman and for the full drafts of the bills.
Newman says that there are 250,000 rightful voters in the state who could be disenfranchised by this effort -- people who have a right to cast ballots and have been doing so, but might not have access to the required photo IDs.
"It is incredulous," she says. "People need to know voter suppression is alive and well in Missouri."
Supporters of the measure argue that photo IDs help prevent voter fraud and that the legislation is set up to help those without IDs obtain proper documentation.
But Newman says it can be difficult to get documents needed and that there is wide acceptance across the country that these measures mostly just burden and disenfranchise legitimate voters.
"I'm going to be asking tomorrow, 'Why don't you care about these 250,000 people no longer able to vote?' What did they do wrong?'" she says.
People who could be impacted by the policy are generally those who do not have driver's licenses.
"These are people who no longer drive or never had a reason to drive," Newman says. "Should people using public transportation in Missouri be considered a bad thing?"
She says it is likely that if Republican leadership push this proposal through, there will be an amendment in the November 2014 ballot.
But Democrats will uniformly oppose, she adds. "We stick together on this."
Here are the draft bills.
More from our Politics archive: "Guns: Christian County Sheriff Wants to Arm Missouri Teachers, Increase School Safety"
Follow Sam Levin on Twitter at @SamTLevin. E-mail the author at Sam.Levin@RiverfrontTimes.com.