A Sunday church service in East St. Louis became a frightening crime scene when three masked gunmen entered the house of worship and demanded that parishioners give them their money.
"These are some trying times now," East St. Louis Police Chief Michael Floore tells Daily RFT this morning.
The investigation into the incident -- which left victims physically unharmed -- is underway now, Floore says, after police were called to IRA Grove Baptist Church. By the time they arrived, the three suspects had fled.
And this early in the investigation, there aren't any solid leads yet, Floore says.
At around 5:12 p.m. yesterday, police were dispatched to the IRA Grove Baptist Church located at 1701 Belmont, he tells us.
See Also: - Video: East St. Louis Food Stamp Brawl Caught on Camera, Officials Consider Stricter Security - Hell Hole vs. Murder City: Adjectives for East St. Louis Just Get Worse - Man Cuffed for Three Armed Robberies in 33 Minutes
"Upon arrival to the church, they were informed by members...that three gunmen had walked into the church and robbed them all at gunpoint," Floore says. "They laid down on the floor."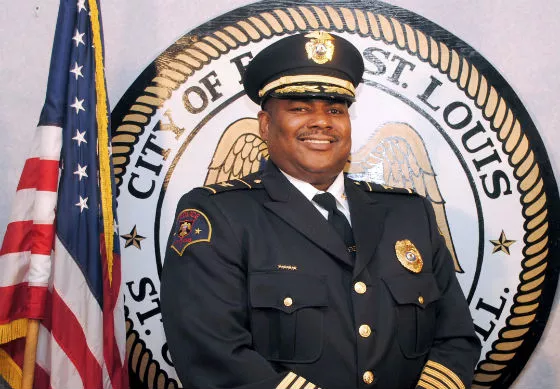 cesl.us
East St. Louis Police Chief Michael Floore
He says he can't yet report how many churchgoers were impacted or how many had items taken from them -- but says early reports say there might have been around fifty people inside at the time of the incident.
All three of the suspects reportedly had guns on them, he adds, but says he does not yet have any additional details about their identities.
He believes that mostly wallets and cash were taken from victims.
"Nobody was harmed," he adds.
Floore says that it's unique for this kind of incident to happen inside a church.
"Trying to go to church, you gotta go through all of this," he says. "It's crazy."
He says that he would like to see increased security there, such as cameras. "We are just going to have to do better."
He adds, "Be mindful, we are living in rough times now."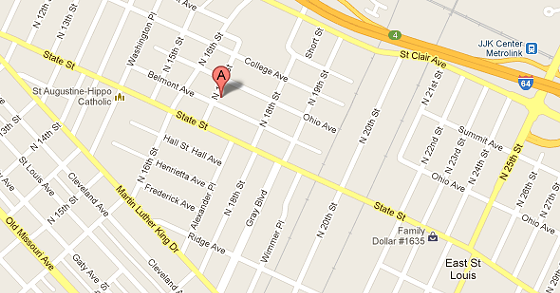 Google Maps
Location of IRA Grove Baptist Church in East St. Louis.
Floore says that the Police Department is continuing to interview victims this morning.
Anyone with information is encouraged to contact Crime Stoppers at 866-371-TIPS.
More from our Dirty Rotten Scoundrels archive: "Ponzi Schemer Martin Sigillito Dodges 325-Year Sentence; Will Still Die in Prison"
Follow Sam Levin on Twitter at @SamTLevin. E-mail the author at Sam.Levin@RiverfrontTimes.com.