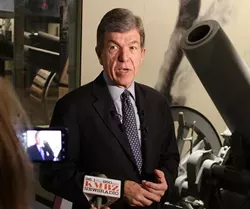 Yesterday, we reported that State Senator Maria Chappelle-Nadal, a Democrat, is pushing gun legislation that would force parents to notify school officials if they own firearms. It's one of many proposals that is sparking controversy at the state level as federal officials continue to debate what kinds of regulations government can enact to reduce gun violence.
Daily RFT asked U.S. Senator Roy Blunt, a Republican, what he thought of the gun control idea from Chappelle-Nadal -- and, unsurprisingly, he's not really a fan.
He says he'll leave the state legislators to debate Missouri proposals -- but adds that he opposes any initiative to require some kind of mandated registry of gun owners.
See Also - As Pols Talk Tighter Gun Control, A Look at 5 Fast and Loose Firearms Laws in Missourah - Ass Clown of the Week: Roy Blunt
As we reported, Chapelle-Nadal, who represents University City, made an effort in her announcement yesterday to say she is not trying to take away anyone's guns and infringe upon Second Amendment rights. Her press release, in fact, said that her proposals were more limited than the gun control measures under debate at the national level -- arguing that her legislation is specifically targeting gun violence in urban communities and in schools. And the school notification requirement is just one part of her bill, which aims to pressure parents to help keep guns out of schools.
And in a recent interview with Fox News, Blunt said that "bans on things" generally don't work, but added that he was open to better background checks.
When Daily RFT asked him about requirements for reporting gun ownership to school officials, he says, "I'm looking seriously at notification requirements."
What kinds?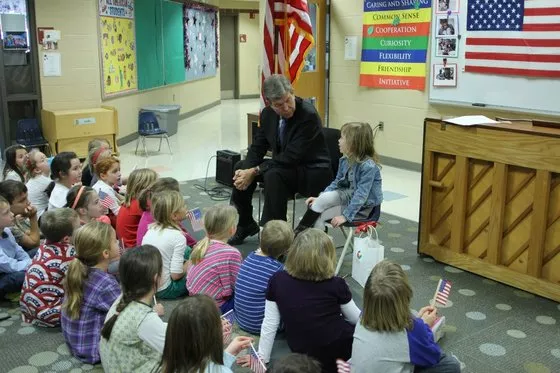 Roy Blunt visiting his granddaughter's first grade classroom in Kansas City.
Speaking to reporters on a conference call, Blunt says that it is important for lawmakers to consider how they can encourage people to report concerns when someone seems to have a propensity for violence and access to weapons -- or if someone is exhibiting threatening behavior.
He cites child predator reporting requirements as a potential model. (There have been discussions of laws that mandate individuals who witness physical or sexual abuse of a minor submit reports to law enforcement, for example).
But "that's a different kind of responsibility," he says.
Blunt continues that he would be shocked if a meaningful number of lawmakers in Missouri or across the country would support "anything that requires a registry of firearms."
He says: "That's a pretty big step away from the Second Amendment."
Blunt adds that he doesn't think anything like that would pass Congress, and says, "My guess is it wouldn't get very many votes in...the Missouri General Assembly."
Here's video of Blunt's recent gun comments.
And here's a copy of Chappelle-Nadal's proposed bill.
More from our Politics archive: "St. Louis Fails Transparency Review: MoPIRG Criticizes City for Lack of Accountability"
Follow Sam Levin on Twitter at @SamTLevin. E-mail the author at Sam.Levin@RiverfrontTimes.com.