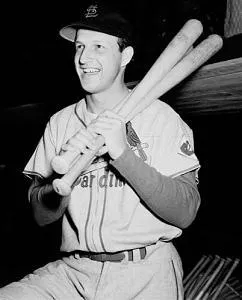 By all accounts, Stan Musial was a deeply humble man and may have been embarrassed by the outpouring of tributes following his death this past Saturday at the age of 92. But, as a devout Catholic, he may have also understood the urge to go on pilgrimage and visit the places where he played baseball, lived his life and where his relics are enshrined. Here, then, is a list of Stan Musial pilgrimage sites.
The statue of Musial outside the third base entrance of Busch Stadium (Broadway and Poplar Streets, St. Louis) has already been festooned with signs and offerings, and it's where the Musial family will lay a wreath after the funeral on Saturday. But Musial, during his long career, never actually played here, nor at its predecessor at the same location.
To see where Musial played, you'll have to venture up to north city to the corner of Grand Boulevard and Dodier Street, site of several incarnations of Sportsman's Park, later known as the first Busch Stadium. The ballpark itself was torn down in 1966, three years after Musial retired; it's now the site of the Herbert Hoover Boys and Girls Club.
During his playing days, Musial lived with his wife Lil and their kids in a pair of modest houses in St. Louis Hills, first at 5447 Childress Avenue (1948-1955) and then, as the family expanded, a custom-built four-bedroom ranch at 6451 Westway Road (1955-1965). According to George Vecsey's biography Stan Musial: An American Life, Musial put up elaborate Christmas decorations every year and once won third prize in the neighborhood contest.
Post-retirement, Musial moved into housing more expected of a major-league baseball star, a secluded mansion in Ladue, at 85 Trent Drive.
Throughout his life, Musial was a regular churchgoer. In St. Louis Hills, he attended mass first at St. Gabriel the Archangel (6303 Nottingham Avenue) and then at St. Raphael the Archangel (6047 Bishops Place), which was closer to his house. In later years, he frequented Church of the Annuziata in Ladue (9305 Clayton Road).
In 1949, Musial bought into Biggie Garagnani's restaurant at 6435 Chippewa Avenue. Henceforth, the restaurant would be known as Stan Musial and Biggie's, and Musial was a regular presence, giving free meals to visitors from his hometown of Donora, Pennsylvania (proof of residency required). They later opened up a second location at 5130 Oakland Avenue and a bowling alley, called (naturally) Redbird Lanes at 7339-47 Gravois. (It was open 24 hours!) The restaurants and bowling alley have since closed, replaced by the St. Louis Cancer & Breast Institute, Forest Park Community College and a Walgreens.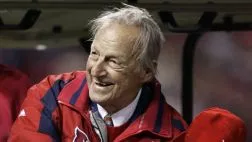 In his later years, Musial would eat lunch every weekday at the Stan Musial Grill at the Missouri Athletic Club's West Clubhouse (1777 Des Peres Road, Town & Country). Usually accompanied by his grandson Brian Schwarze and his business manager Dick Zitzman, Musial would sit at the same table and eat the same sandwich -- ham and Swiss -- with bananas and applesauce and sign autographs for anyone who asked. He also celebrated his last three birthdays there.
The table itself has become a shrine of sorts, says catering manager Brittney Morgan. There's a permanent "reserved" sign on it now, and it's covered with flowers and other memorabilia.
Unfortunately, you can only eat at the Stan Musial Grill if you're a member of the MAC or have managed to convince a member to sponsor you. If you're merely a member of the hoi polloi, head over to Lester's Sports Bar and Grill in Ladue (9906 Clayton Road), marked by yet another statue of Musial. Musial wasn't quite a regular at Lester's, but he was a good friend of the restaurant's owner and namesake, Lester Miller, and donated signed baseballs and many, many photographs, which decorate the bar.
Mike Shannon's Steaks and Seafood (620 Market Street) has its own Stan Musial room, with pictures and signed bats and balls. Musial, tweets his grandson Schwarze, was generous with his autograph; signing was "a love and a passion."
Musial's own sports memorabilia company, Stan the Man, Inc., is temporarily closed.
Another way to commune with the spirit of Musial is to honor the causes that he supported, most notably Covenant House, an organization that helps homeless and at-risk teenagers. Musial lent his name to the group's biggest annual fundraiser, the Stan Musial Hall of Fame Gala, and his family has requested that, in lieu of flowers, mourners send donations to Covenant House instead.
Musial also supported the Polish-American Cultural Society and contributed to a scholarship fund to send a college student to spend a summer studying in the homeland.
You could honor Musial by visiting any of these places. Or you could just pull out a harmonica. And learn to play.