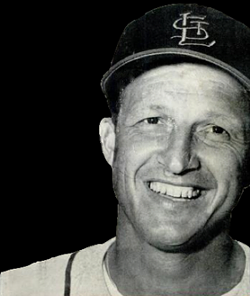 This is an easy one.
Lawmakers are now proposing that the Mississippi River bridge be named after the late, great Stan Musial, because, well, duh.
"It's obvious," says Senator John Lamping, a Republican who introduced the Stan Musial Memorial Bridge bill, full version on view below. "He strikes a chord, I think, with all midwesterners."
There has been a great deal of debate about what to call the new Mississippi River bridge connecting Missouri and Illinois, says Lamping, who is on the Transportation and Infrastructure Committee of the State Senate.
Sam Levin
A fan pays tribute to Stan Musial at Busch Stadium over the weekend.
Honoring Stan the Man, who died over the weekend at age 92, is not controversial, Lamping says.
"I think that what has been the tradition in the past for a lot of the government buildings is to find a worthy...elected official," he says. "That's the kind of tradition we should be breaking....In this day and age, Missourians...are tired of that tradition."
Musial, he says, is a perfect iconic figure deserving of the recognition and one disassociated from any partisan disagreements.
"We want a cultural reference," says Lamping, who is pushing the proposal alongside Republican Senator Eric Schmitt and other state legislators. "As famous as a person as he was, he didn't clamor for the spotlight...all the things I associate with midwestern values...quiet confidence."
He adds, "This is obviously the opportunity to rally support."
Lamping says he expects the bill to go through the General Assembly over the next few weeks. The proposal would require buy-in from Illinois lawmakers, too, but Lamping says he is hopeful -- though the process and timing across the river is a bit different.
Continue for more details on the proposal and the full text of the bill.
Meanwhile, U.S. Senators Claire McCaskill, of Missouri, and Dick Durbin, of Illinois, are also planning on introducing federal legislation to support this idea. Her office says that McCaskill will honor Musial and call for the bridge to be named after him on the Senate floor today.
Lamping says there will be broad, bipartisan support for the idea.
A breath of fresh air?
"It happens a lot more than you think," he says.
Here's the full text of the bill.
More from our Cardinals archive: "This Thursday, Pay Your Last Respects to Stan Musial"
Follow Sam Levin on Twitter at @SamTLevin. E-mail the author at Sam.Levin@RiverfrontTimes.com.