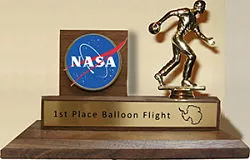 Even though it comes from NASA, this balloon flight trophy looks suspiciously repurposed.
Update January 22: Super-TIGER has broken the official NASA balloon record. And yes, there's a trophy for that. Which has already reached the team in Antarctica. (Yet it takes a week for UPS to deliver a simple package within the continental United States. What is up with that? But we digress.)
Currently Super-TIGER has been circling Antarctica for 45 days, handily shattering the old record of 42 days, set back in the winter of 2004-2005. And it's not done yet: The Super-TIGER research team, based at McMurdo Station in Antarctica, believes the balloon has another eight to ten days to go before it circles back to McMurdo, whereupon the scientists will bring the sucker down and retrieve the two tons of scientific equipment aboard.
Original post from January 15 after the jump.
The launch of Super-TIGER on December 8.
So what did you do on your winter vacation? Whatever it was, we're pretty sure a team of physicists from Wash. U. has you beat. They're down in Antarctica right now, where it's the middle of summer (and, incidentally, ten degrees warmer than St. Louis), high season for science experiments.
They've been hanging out at McMurdo Station, Antarctica's main research center. They've been watching penguins and seals. They've been sliding down icy hills on cafeteria trays. And they've been watching the progress of Super-TIGER (Super Trans-Iron Galactic Element Recorder), a two-ton instrument they launched high into the thin Antarctic atmosphere last month via a long duration balloon, held aloft, amazingly enough, by helium.
As of today, Super-TIGER will have been in the air 38 days. That is, notes Ryan Murphy, a Wash. U. grad student and keeper of the mission's official blog and Twitter feed, longer than the entire William Henry Harrison administration. Five more days, and they'll break the all-time balloon record.
Super-TIGER's mission is not just to break ballooning records, though. This winter/Antarctic summer, the instrument will be collecting cosmic rays, super-charged subatomic particles that come from...somewhere, way out there in the universe. The Super-TIGER team, comprised of scientists from Wash. U., Caltech, the University of Minnesota and NASA's Goddard Space Flight Center and Jet Propulsion Laboratory, believes that cosmic rays come from explosions in OB associations, groups of enormous, hot stars that emit massive amounts of ultraviolet radiation.
The material in cosmic rays is similar to what makes up our solar system. The scientists are hoping that once they analyze the particles and data collected by Super-TIGER, they'll be closer to understanding where the cosmic rays come from.
If you're going to launch a balloon, the mid-Antarctic summer is the perfect time. The polar vortex, a whirlpool of a wind, starts blowing in early December. Once the balloon gets caught in the vortex, it will float in a circle around Antarctica instead of blowing out to sea.
An OB association, a possible source of the cosmic rays collected by Super-TIGER.
The balloon itself is an enormous thing, wider in diameter than the Arch is tall, and made of thick polyethylene film. (Relatively thick: 20 micrometers, which is way less than a single millimeter.) It's attached to Super-TIGER by steel cables.
So far, the balloon has floated around Antarctica twice. The scientists figure it has enough gas left to make it around one last time. When it gets back within striking range of the launch site of McMurdo, the scientists will bring it down with the aid of two explosions, the first to deflate the balloon and activate the landing parachute and the second to detach the parachute from Super-TIGER so it doesn't go sliding across the ice like a rogue parasailer on spring break. (Such was the sad fate of TIGER, Super-TIGER's predecessor, which launched ten years ago and met an ignominious end, abandoned in remote East Antarctica.)
It's not like it's necessary to send Super-TIGER around again. But the data! Think of the data! And also, who can possibly deny that breaking the ballooning rule in the bargain is super cool? In celebration, the Super-TIGER crew has designed a pirate flag and the Twitter feed has taken on a piratical tone.
It has become painfully apparent that scientists have the best toys.