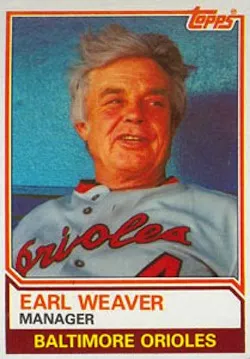 Earl Weaver, a St. Louis native and Beaumont High School graduate who went on to become a Hall of Fame manager for the Baltimore Orioles, passed away Friday while on a cruise. He was 82.
Though drafted by his hometown Cardinals, he never played in the majors for them or any other team. During his first stint as manager with the Orioles, he guided the team to one World Series title (1970), four American League pennants (1969-1971 and 1979) and six division titles. In 1982, the final year before his first retirement, Weaver's Orioles nearly caught the Milwaukee Brewers for the A.L. East title, but were eliminated in a head-to-head meeting on the last day of the regular season.
In 1983, with a team largely built through Weaver's tenure, the Orioles won the World Series. The franchise has not returned to the fall classic since.
Weaver returned from retirement to manage the Orioles for most of 1985 and all of 1986, the only losing season of his career. In 1996, the Veterans Committee elected him to the Hall of Fame.
Though Weaver might have been best known to casual fans for his quick temper and epic on-field tirades against umpires, he was a master and highly influential baseball strategist. He disliked old-school small ball, preaching instead the holy trinity of "pitching, defense and the three-run homer". (Indeed, without the benefit of newfangled statistics, his approach wasn't so different from that of sabermetrics.) He made frequent use of platoon arrangements and pinch-hitters to exploit (or to try to exploit) match-ups. Even his ejections were strategic: He reasoned that his own removal from the game was better than the ejection of the player on whose behalf he was arguing.
Weaver is also responsible for one of the great gag reels of all-time, an authentic -- but never broadcast -- edition of his "Manager's Corner" radio show. It is, gloriously, NSFW.