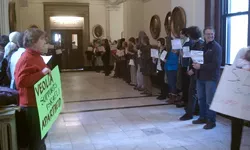 Members of Dump Veolia line the hallway outside the mayor's office.
Update: Click through for a copy of the preliminary Veolia contract.
Yesterday, the Estimates and Apportionment Committee met to do its usual business and was met by a rather unusual crowd.
Over 50 members of the activist group Dump Veolia showed up with handwritten signs protesting a pending consulting contract between the City of St. Louis and Veolia Water, a multinational water service company.
The issue had actually already been pulled from the agenda a day before. But organizers say they wanted to send a message to committee members Mayor Francis Slay, Aldermanic President Lewis Reed, and Comptroller Darlene Green. They also say they wanted to make sure the issue didn't quietly wander back on to the agenda at the 11th hour.
See also: -French Firm, Veolia, Wins Consulting Contract with St. Louis Water Division -Watchdog Group Has Its Eye On Veolia, City's New Water Division Consultant -Veolia Water Contract Sent Back to Committee Over Concerns About Company's Reputation -"Dump Veolia" Mounts Social Media Campaign to Halt City Water Contract [UPDATE]
Dump Veolia is a social media campaign made up of both Palestinian solidarity group members and environmental concerns. We introduced them on Tuesday here. At Wednesday's meeting they carried signs that read "Veolia Supports Israeli Apartheid" and "I Love My City Water."
The crowd was large enough to necessitate moving the meeting from Slay's office to a larger gallery down the hall. In addition to activists, the (normally tiny) audience included Alderman Scott Ogilvie, Treasurer Tishaura Jones, and civil rights figure Percy Green.
The crowd in Room 208, Percy Green in the foreground.
At the close of the E&A meeting, all three committee members addressed the crowd, raising the possibility of a public meeting to address Veolia's pending contract.
"I'd love to have somebody from my staff to sit with representatives or others that have concerns about this," said Mayor Slay. "I think it's important that accurate information be out there. There is some misunderstanding."
He offered up Public Safety Director Eddie Roth as the point person for Dump Veolia representatives. Not to be outdone, President Reed jumped in as well.
"Tom Shepard from my office is also available to meet with you and talk about the issue," said Reed. "I would love to continue to talk to you about the issues as we move forward, to make sure at the end of the day the citizens of the city of St. Louis are put first before any corporation."
Comptroller Green suggested that Reed appoint an appropriate committee member at the Board of Alderman to head up an investigation of Veolia Water's history.
"That way they can be heard publicly as well as in contact with your office personnel," said Green.
"I think that's a good suggestion," said Reed.
Should such a public hearing take place, the contract -- which was quietly moving toward approval and said to be all but a done deal in December -- will face a significant delay at the very least.
After the jump, a copy of the contract in question and a response from Veolia Water North America. Mayor Slay has attempted to dispel "misunderstandings" about the contract in the past. His office has emphasized that there will be no layoffs at the water division and that the utility is not for sale to Veolia, a for-profit company which has privatized water utilities in other cities all over the world. The $250,000 deal contracts with Veolia for four months to look for cost-saving measures at the water division. If Veolia's suggestions are accepted, a second, five-year implementation deal will be inked.
But the diverse interests represented by Dump Veolia will be hard to pin down. While there is concern within the water district about jobs, members of the coalition like St. Louis Palestinian Solidarity Group object to Veolia on a social justice basis. The head of the Missouri Coalition for the Environment Kat Logan Smith penned a letter which read, in part, "Veolia has a global record of environmental problems. The hazardous waste incinerator at Sauget, Illinois is a good example. The facility operated for years without a permit and it took a lawsuit from the Sierra Club to get the facility permitted under the Clean Air Act." The groups details its argument with examples from other cities here.
Meanwhile, Matt Demo, a spokesman for Veolia Water North America, reached out to Daily RFT try to answer some of the concerns that have been raised both on the environmental and social justice fronts.
"We're insanely proud of our work in St. Louis," he says.
Demo provided a PowerPoint breaking down some of Veolia's goals in St. Louis, including reducing overall water consumption due to main breaks and leaks, and addressing aging infrastructure. It also points out the benefits of similar contracts that are already in effect in New York City and Pittsburgh. View that presentation here.
One of the case examples cited by MCE is an illegal wastewater dump at a facility in New Orleans. Demo points out that the incident happened about 10 years ago and that the facility has been compliant with environmental regulations since.
Demo says he's less familiar with the objections to Veolia's involvement running bus lines, waste management, and tram lines to Jewish settlements in disputed territory in the West Bank, but says Veolia is one of many companies that are included in the so-called "Boycott, Divestment and Sanctions" movement.
He also emphasized that water workers' jobs are safe and that the company is eager to execute its contract.
"There's nothing else to say. There are no layoffs," he says. "We're really confident we can help the city here. Let's figure out those ideas and come up with a solution."
A copy of what appears to be a preliminary draft of the contract between Veolia and the city was mailed anonymously to Daily RFT. It lays out many of the same features mentioned in Veolia's bid to the city, including the creation of a steering committee made up of city members and Veolia employees, "all-access" clearance for Veolia employees working on the project, and a promise to, over the course of four months, prepare an "Operational Efficiency and Revenue Creation Analysis" with "Recommended Initiatives that Veolia suggests for implementation by the SLWD."