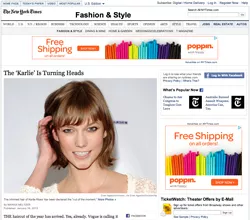 A story with far-reaching importance.
Can we all just agree that the New York Times Style section is the most important source of news in our time? How else would we know about all the ways wealthy, Ivy League-educated residents of Williamsburg and Park Slope mingle, mate, marry, raise dogs and children and send those dogs and children to private clubs and private schools and thence to Ivy League institutions (children only). Ah! the circle of life!
But today's edition contains the most important story we have read all week. Even more than the Manti Te'o fake-girlfriend hoax. Yes, it's true. Webster Groves-raised supermodel Karlie Kloss has a new haircut!
Take a minute to absorb that. This is a story that has far-reaching importance. You may never have a fake dead girlfriend. But you can get Karlie's new haircut, known as the Chop or, simply, the Karlie. Everyone will be getting Karlie's new haircut. It is the haircut of the year. The Style section has declared it so!
The matter of the Karlie/Chop is of such vital importance that it rates 782 words and a spot on the Times homepage. This is serious news, people! Fifteen years from now, our children will be able to precisely date photos of us to 2013 because we will appear in them with Karlie haircuts. And our children will laugh, the same way we laugh at our parents' Farrah Fawcett-inspired wings from the 70s.
So what is this marvelous haircut? Writer Marisa Meltzer describes it thus:
The cut was the brainchild of the hairstylist Garren Defazio. It rests just above the shoulders, with some layering in the front, and is topped off with bangs. It echoes the signature 1960s haircut of Jane Birkin....

He is emphatic that it's neither a bob nor a shag, but a one-length cut with a slight layer in the front. It's a low maintenance look that sets off the face. "I cut it to encourage her natural wave," Mr. Defazio said. "It's long enough so she can gel it back, and it's modern because it's airy and rumpled. Short hair is in."
Karlie loves her new haircut! You will love Karlie's new haircut! More than any other news story this week, this is one that will change your life!