MoDOT, bless its cold, gravelly little heart, announced yesterday the worst traffic jams of 2013, uh, wait, make that its largest construction projects for the upcoming year. Huzzah! It's so rare when you know in advance what you'll be bitching and moaning about.
You'd think that surviving the two-year-long Highway 40 makeover would have toughened us up, but who is ever sanguine in the middle of a traffic jam when they're running late? Or even when they're not running late? Cars were meant to move, people!
MoDOT has little sympathy. As district engineer Ed Hassinger told KTVI (Channel 2), "Work zones are going to start up so people need to get off their phones, figure out how to drive, and be careful in those work zones." Aw snap!
After the jump, the four biggest road projects: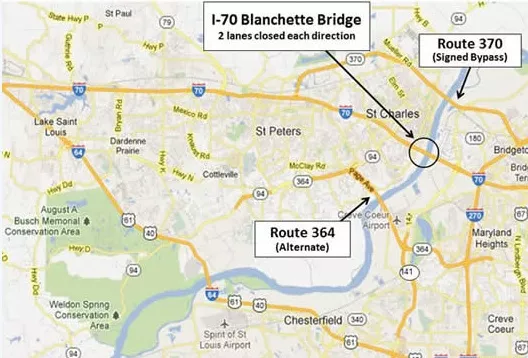 I-70 Blanchette Missouri River Bridge This $64 million project is already well underway, which you may have noticed if you've had to go out to St. Charles or beyond since the beginning of November. The highway has been been reduced from five lanes in each direction to three while crews work on the westbound bridge. Until this bit of joy is completed sometime in the fall, MoDOT politely suggests you use Route 370 or Route 364. But not I-64, because...
courtesty MoDOT
An artist rendering of the new, improved Daniel Boone Bridge.
I-64 Daniel Boone Missouri River Bridge Starting later this month -- date unspecified -- MoDOT will begin rebuilding the westbound portion of the bridge. (Wow, they really want to keep St. Louisans out of the rest of the state, don't they? Except for the southwest part, serviced by I-44. What a relief! We can still go to Branson!) The project will cost $111 million and last three years. When it's done, eastbound traffic will go over the new bridge and westbound traffic will use what's currently the eastbound bridge. Got that? MoDOT does have moments of kindness, though: The road will mostly be shut down only during off-peak hours and on a few weekends, except for a few days in February when there will be rock-blasting at midday. How exciting!

courtesty MoDOT
An overview of the Tower Grove project, from Taylor Avenue to Sarah Street.
I-64 at Tower Grove Interchange Since the Grove and Botanical Heights neighborhoods have recently gotten so spiffy (neon signs! restaurants with tasting menus! patisseries!), it's obvious that the current highway ramps on South Boyle and Vandeventer Avenues clearly won't do. They're so...grubby! So hard to find! This project will require MoDOT to shut down the entire highway for three full weekends. The first is coming up starting January 25. During the days, three lanes will be running in each direction, though they may be a little narrow. But on nights (starting at 7 p.m.) and weekends, traffic will slow to a trickle, one lane each way. January 25 also marks the shutdown of the entrance ramp to westbound I-64 from Vandeventer.
In addition to sprucing up the interchange, which will now be at Tower Grove Avenue, MoDOT plans to repave and resurface Highway 40 between South Sarah Street and Kingshighway and replace the bridges on Taylor, Newstead, Tower Grove and Boyle Avenues. Accordingly, all those streets will be shut down, Taylor and Newstead first, from January 21 until November, and then Tower Grove and Boyle.
But here's the best part: There's going to be a roundabout, just like the one they have in Chesterfield that confuses the hell out of everyone who tries to use it!
The whole project, which is budgeted at $18 million, won't end until the middle of 2014.
And finally...
courtesty MoDOT
This is the new, improved northbound I-270, but the southbound side is going to look just like it. Someday.
I-270 Southbound Widening The sequel to last year's widening efforts on northbound I-270, this year's project will add an extra lane to southbound I-270 between Dougherty Ferry Road to I-44. Starting in late February, MoDOT promises "daily lane closures" and "periodic interstate closures on weekdays" once rock-blasting starts in the spring. The whole widening project, both directions, will come out to $12 million.