Courtesy SLMPD
Sean Johnson, the alleged SIBA shooter, in a mugshot from a previous, unrelated arrest.
Sean Johnson, the 34-year-old alleged shooter at the Stevens Institute incident yesterday afternoon, has been charged with three felonies and a misdemeanor weapons charge.
The St. Louis Circuit Attorney's office just released the probable cause statement which confirms rumors that Johnson was upset about his financial aid at the school and may have shot the school administrator who informed him that he was no longer receiving funds for his education.
Johnson was an on-again, off-again student at the school, according to Police Chief Sam Dotson.
See also: -Shooting Reported at Stevens Institute of Business and Arts [UPDATE]
From the probable cause statement: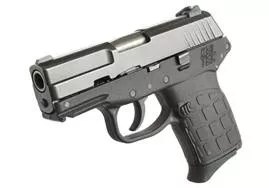 Courtesy SLMPD
A Kel Tec PF-9 handgun, the type of weapon used in the attack.
On January 14, 2013, the defendant, a student at Steven's Institute of Business and Art, entered the school in order to discuss his financial aid with the victim G.E., Director of Financial Aid. Defendant had a heated exchange with victim G.E. concerning his financial aid. On January 15, 2013 Defendant entered Steven's Institute of Business and Art. HE proceeded to the office of G.E. They again discussed his financial aid. The defendant stepped out of G.E.'s office. He returned and shot G.E. once in the chest. G.E. was taken to the St. Louis City Hospital where he had to undergo surgery to remove the bullet. He is in critical stable condition, but is expected to survive. Following shooting G.E. the defendant fled to the stairwell in the school. Police found him a short while later with a gun shot wound to his side. The gun was located with 3 live rounds inside. The weapon's serial number was scratched such that it was unreadable.
KMOV reports that Johnson has had other violent run-ins with the law, including throwing a brick at a cop car and an altercation with a cab driver. His former attorney Eric Barnhart reportedly said his client acts out when he is off his medication. The probable cause statement also lists drug charges on Johnson's record, which goes back to the 90's.
Greg Elsenrath, victim, is expected to make a full recovery.
Josh Rowan
Sean Johnson being wheeled away from the scene by paramedics.
Johnson has been charged with felony first degree assault, felony armed criminal action, felony unlawful possession of a firearm, and misdemeanor possession of a defaced firearm. He's still in the hospital.
Daily RFT has some amazing photos of yesterday's crime scene here.
Read the whole statement below:
Sean Johnson, suspect charged in shooting at Steven's Institute of Business and Art in St. Louis by Chad Garrison