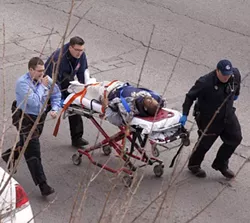 Josh Rowan
The alleged gunman is wheeled to an ambulance today at roughly 2:20 p.m.
Update: New, exclusive photos of the immediate aftermath of the shooting, taken by the resident of a nearby apartment building.
Multiple media outlets are reporting a shooting at the Stevens Institute of Business and Arts at 1521 Washington Avenue.
According to the Post-Dispatch, two men have been removed from the building in stretchers, and a 21-year-old gunman may already have shot himself.
P-D reporter Joel Currier just tweeted that a spokesperson for the St. Louis Police Department says the scene is clear.
From police scanner: "Building's secure. SWAT's going to hold it for a second."
Update 5:30 p.m.: Josh Rowan, a photographer who lives two doors down from SIBA took a number of shots in the immediate aftermath of the shooting. He says no one was allowed to leave or enter his building for at least an hour. Here are a few shots, look for more at the bottom of the page after the jump.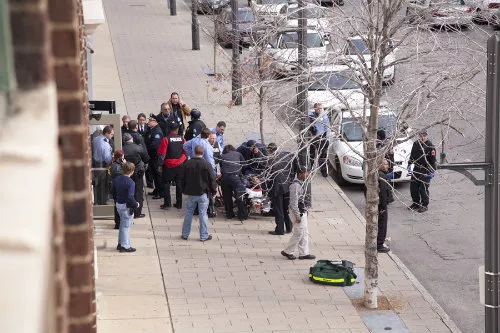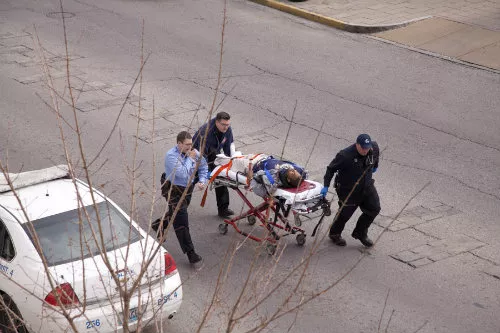 Update 3:45 p.m.: A statement from the St. Louis Metro Police Department describing the incident:
At approximately 2:00pm there was a call for a shooting at the Stevens Institute of Business and Arts at 1521 Washington Avenue, St; Louis. Officers arrived, secured the premises and located a mid 40's white male victim in an office with a gunshot wound to his torso. The victim, who is an employee at the Institute, was transported to a local hospital in serious/stable condition. Officers also located an early 20's black male, believed to be the suspect, in a stairwell. The suspect, who is a student at the Institute, had what is believed to be a self inflicted gunshot wound to the torso. He was also transported to a local hospital in critical condition. A handgun was recovered. The Institute has an enrollment of approximately 180 students. All persons in the building were evacuated and there were no other injuries. There has not been an established motive for the shooting at this time and the investigation is ongoing.
Update 3:25 p.m.: The P-D has photos of the victim and alleged gunman being wheeled into an ambulance here.
Diana Zoga with KMOV reports both men are being treated at St. Louis University Hospital and are in critical condition.
Update 3:00 p.m.: Here are some quotes from SLMPD Police Chief Sam Dotson, who has just wrapped up a press conference:
"What we found was a white male in late 40s who had been victim of gunshot wound, he was immediately transported to the hospital.
"Both the victim and suspect are at the hospital in surgery right now. We are hopeful they'll both survive.
"The individual was a student here, part-time on and off. He was familiar to faculty, familiar to staff.
"This did not appear to be random."
The shooter was found in a stairwell between the third and fourth floor of the school, and he appeared to have suffered a self-inflicted gun shot wound. A handgun was recovered with him.
The victim was an administrator at the school and was shot in his office. A floor by floor sweep of the building with police dogs did not turn up any more victims or shooters.
Update 2:40 p.m.: We've got a call into the SLMPD, but here's the chatter on Twitter from Fox 2 reporters on the scene:
Click through for more photos of the immediate aftermath of the shooting.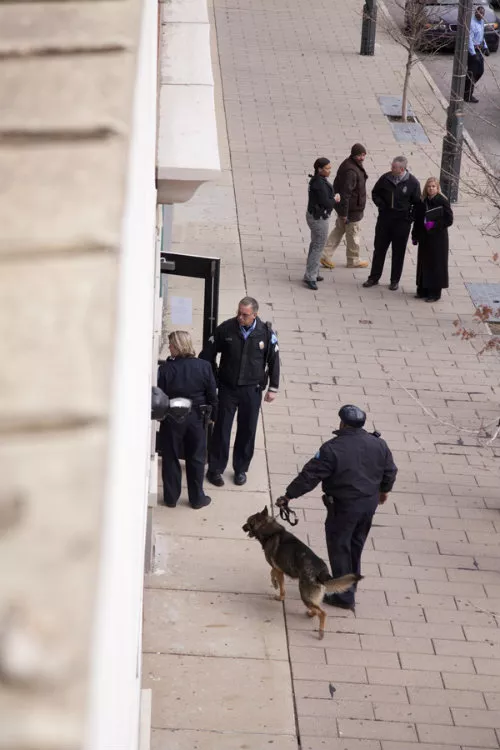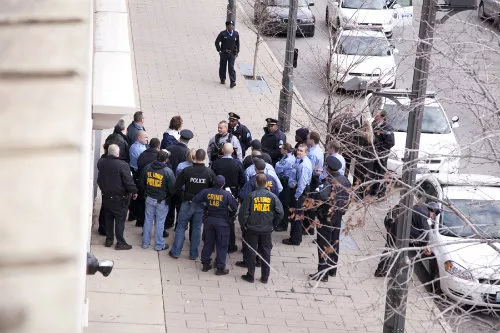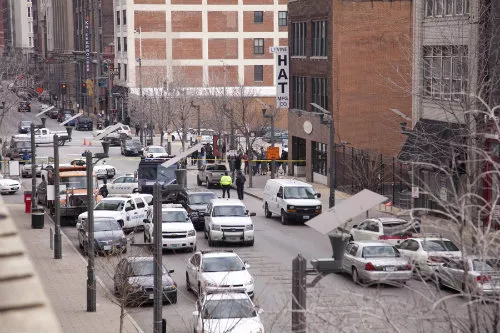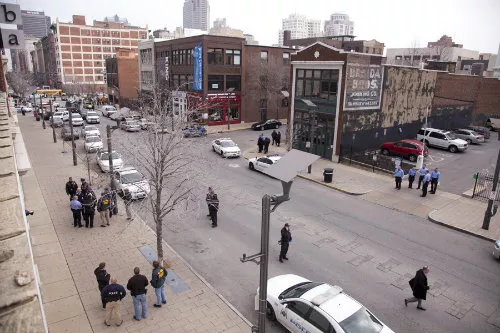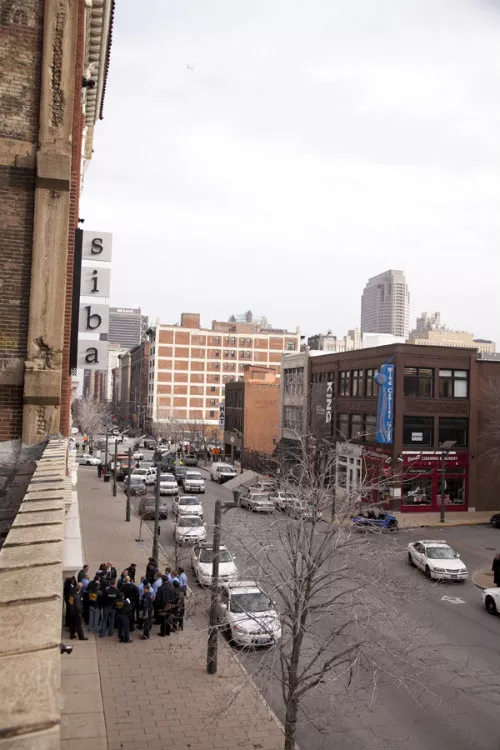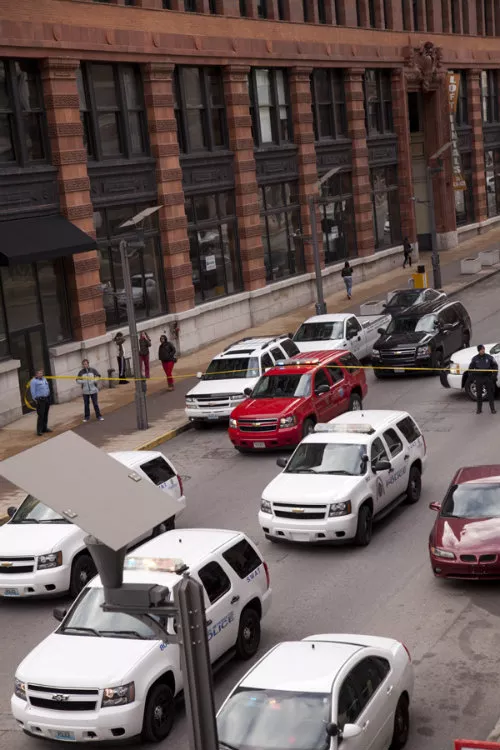 Josh Rowan
Handshakes for heroes.