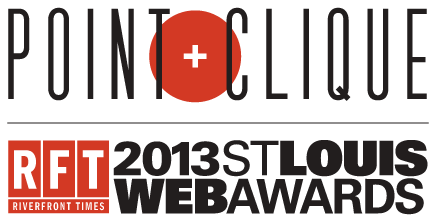 The past twelve months was an outstanding time for hot digital action in St. Louis. Our citizens launched apps, pushed pixels, encouraged consumerism and conducted full-on comedy shows in 140 characters or less. If we learned anything, it's that you can't get a job -- or even a date -- without being part of some kind of online or techie... thing.
We at the Riverfront Times like to reward that kind of dedication/sexiness/waste of time. After reviewing the digital efforts throughout 2012 of thousands of local nominees, our panel of esteemed judges determined that the special unicorns below deserve to be finalists. We'll reveal the ultimate winners in each category at an exclusive awards ceremony Jan. 22, followed by a full write-up in the Jan. 24 print edition of the RFT.
Congratulations to all of those named below!
See Also: - Meet Your 2013 RFT Web Awards Judges
BLOGS
Best Neighborhood Blog Cherokee Street News iLoveSoulard Old North St. Louis Restoration Group Park Central Development - 17th Ward
Best Arts Blog 2 Bulidings, 1 Blog Hours of Idleness Riverfront Times arts section Temporary Art Review
Best Music Blog Encor.es I Went to a Show KDHX PlaybackSTL RFT Music Speakers in Code
Best Personal Blog City in a Jar Distilled History East Tator sKIDmarks
Best Entertainment/Gossip Blog Berger's Beat Punching Kitty Tube Talk with Gail Pennington
Best Activism/Opinion Blog nextSTL Preservation Research Office: Ecology of Absence St. Louis Neighborhood Development Blog UrbanReviewSTL Vanishing STL
Best Sports Blog insideSTL JoeSportsFan Viva El Birdos
Best Political Blog Beyond November Occasional Planet Progress Missouri St. Louis Beacon politics blog
Best Food Blog A Periodic Table Grillin' Fools Iron Stef Shoot to Cook Sounding My Barbaric Gulp
Best Sex Blog Momfia New Amurican Gospels The Beautiful Kind
Best Architecture Blog B.E.L.T Preservation Research Office: Ecology of Absence St. Louis Patina Vanishing STL
>>Up next: websites, social media and collections of stuff.>>
WEBSITES
Best Website Design Ces and Judy's Jonathan Gayman Photography Pastaria STL Design Week
Best Club/Concert Website An Under Cover Weekend LouFest The Firebird The Pageant
Best Restaurant Website Franco Guerrilla Street Food Home Wine Kitchen Pastaria
Best Mobile Website Guerrilla Street Food KDHX Pastaria
SOCIAL MEDIA AND COLLECTIONS
Funniest Twitter Feed @__candypants @idanladd @mattsebek @meggitymak @mrhallas @removeyourpants @wardcrap
Biggest Twitter Twerp @markbland @pttheIslander @stlsocialgroup
Best Social Media Controversy/Gaffe Cancelled due to lack of quality nominations
Best Use of Twitter to Promote a Business or Organization @charter @loufusztoyota @robustwinebar @schlafly @spacearchitects @stlfta
Best Use of Twitter to Promote a Personal Brand @cookingkid @mattsebek @publiceyestl @stlveggirl @stlwinegirl @thecubiclechick
Best Use of Facebook to Promote a Business or Organization American Patriot Beer Down Syndrome Association of Greater St. Louis Feast magazine Humane Society of Missouri KDHX LockerDome Rock Uniform
Best Digital Photo Collection Corey Woodruff Photography portfolio Found on Cherokee blog It's Alright, Ma blog Missouri History Museum Pinterest collection This Is St. Louis blog
Best Pinterest Board Feast magazine Fresh Encounters Missouri History Museum Tidy Mom Upcycle Exchange
Best Use of Social Media for Civic Campaign #FaceOff Against Hunger #midtownfire response for housing, pets and donations RallySTL #STLforSANDY
>>But wait, there's more! Apps, memes, video, crowdfunding and overall strategy.>>
EVERYTHING ELSE
Best Mobile or Tablet App aisle411 Bonfyre Contemporary Art Museum MoDOT St. Louis Rams Fisher Stache
Best Local Meme Hey, Girl. I'm Mike Matheny. What High School Should We Call Me?
Best Use of Video for a Personal Blog or Website City in a Jar Danielle Smith TV Soldier Knows Best
Best Use of Video for a Business or Organization Anastasis Films An Under Cover Weekend Feast magazine Goshen Coffee The Rise to the Top Young & Free St. Louis
Best Crowd-Funded Campaign The Adventures of Time Slot The JoeSportsFan Show The Luminary Moves to Cherokee Street New Years Rulins: Photos Inspired by Woody Guthrie Sentinels of the Multiverse: Shattered Timelines and Infernal Relics Viticulture: The Strategic Game of Winemaking Whisk: A Sustainable Bakeshop
Best Overall Digital Campaign/Strategy American Patriot Beer Goshen Coffee Webster University