Cops say James Bright and Jeffrey Medcalf stole rings from a Rams coach
Two dudes in their mid-twenties have been charged with breaking into the home of
Rams tight-ends coach Rob Boras
and stealing electronics, video games and jewelry -- jewelry that included Boras' NFC Championship ring and three gold NCAA rings.
The crooks have been arrested, but the rings are still nowhere to be found, Kirkwood cops say.
Here's what happened, according to police: At 1:28 pm on New Year's Eve, Boras' neighbors on
Girard Place
in Kirkwood saw a pair of guys carrying a TV out of the coach's house, so they called 911. The burglars -- apparently aware they'd been caught red-handed -- dropped the TV and sped off in a white vehicle.
Detectives tracked down and arrested two suspects on January 3: James Bright, 25, of the 1100 block of Caballo Court in Fenton; and Jeffrey Medcalf, 26, of the 1100 block of Briarhurst in Ballwin.
Rams tight-ends coach Rob Boras got his rings stolen
Bright and Medcalf reportedly confessed to the authorities that they'd stolen the rings and re-sold them to
Missouri Gold Buyers
.
However, when the cops questioned people at that business, they got "conflicting reports" and left empty-handed.
The two thieves coughed up info on the rest of the loot, which proved more fruitful: They told cops they'd stashed some of the other jewelry in the woods near Manchester and Barrett Station roads. The cops were able to recover that jewelry.
Police also recovered most of the video games, which had been traded for cash at gaming stores in and around West County Mall and South County Mall.
Bright and Medcalf each face one count of second-degree burglary and one count of stealing.
As for Boras, here's his CV as summarized on the
Rams' site
:
Now, the release sent out by Kirkwood police stated that Boras' "NFL Championship" ring was stolen. None of the teams above won a Superbowl during his tenure. However, the Bears won the NFC championship while he was there in 2006 (and then lost in the Superbowl). Therefore, I assume that the missing ring is actuallly his NFC championship ring (see below). If I find out more, I'll update this post.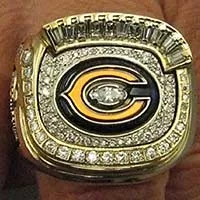 The Chicago Bears' 2006 NFC Championship Ring