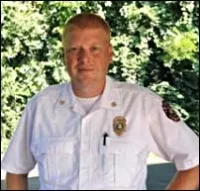 Eric Hinson, former fire chief of St. Clair and Ladue, is indicted
If you leave St. Louis and travel southwest on I-44 for about fifty miles, you'll hit the town of Clair, Missouri (population 4,700). It's a small town, but has a publicly funded fire department that boasts four fire houses and 18 full-time firefighters.
Eric Hinson began as a volunteer firefighter there in 1985.
By 1999, he was made treasurer.
By 2006, he was embezzling funds, according to a federal indictment returned on Wednesday.
Hinson allegedly took out a couple of credit cards in the name of his employer, then used them for personal expenses, such as taking his family on vacation to Hawaii and Florida, buying sporting goods, renting limousines, purchasing tickets to Six Flags and Big Surf water park, staying in hotels.
The feds also allege that Hinson used the fire department's checking account to help him pay for a Ford pickup truck, furniture from Macy's and tractor parts from John Deere.
Hinson is accused of manipulating QuickBooks, the accounting software used by the fire department, to backdate his expenditures and change the payee on certain transactions so that nobody would find out what he was up to. All told, Hinson allegedly stole $593,236.
Hinson was made chief of St. Clair's fire department in January 2011, then resigned in September 2011 after the investigation started.
Somehow, throughout all these years, Hinson was also employed by Ladue's fire department, and was made chief there in July 2011, according to
Patch
. Yes, while he was already chief in St. Clair.
Apparently, in Missouri, you can serve as fire chief in two different municipalities at the same time, even though they're 50 miles apart.
Hinson now faces charges of mail fraud and tax evasion. You can read the indictment below.