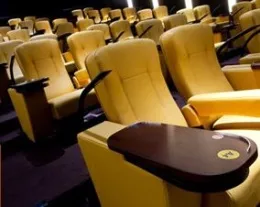 The "luxury" seating at MX
Wanna shed some fat in 2013? Be more active? Spend less time gaping at a screen and more time in the bright sunshine?
Then stay clear of Washington Avenue and 6th Street next weekend. Because the
new movie theater opening right there in the renovated Mercantile Exchange building
is apparently designed to cater to the pasty blob-person you're trying
not
to be.
How are you going to make it to hot yoga when, according to
MX Movies website
, you'll be staring slack-jawed at one of "three screens with crystal clear digital projection"?
Oh, and while you do that, you'll be plopped on your duff in their "generous and comfortable seating" that has "liftable arm rests in seats allow you to combine or draw the line!"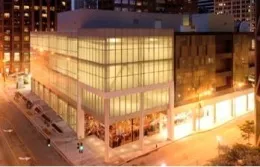 The new MX Movies luxury theater at Washington and 6th
Wait - what's that you say? You'd rather go for a jog and work on "your core" than cuddle with your boo in a dark theater and watch
Lincoln
? False. You wouldn't.
And that's another thing: The movies they're showing first are looooong movies:
Lincoln
,
Django Unchained
and
Les Misérables
are all over two hours in duration.
No problem, you retort -- you'll have to get up during the movie, right?
Wrong, sucker. From the website:
While we can't pause the movie if you need to use the restroom, we can make it so you no longer have to get up in the middle of the movie for a refill ever again and you'll be able to order right from your seat using tablet technology to minimize disturbances during the movies! The food and beverage offerings will include traditional movie fare, a full bar, and an array of creative appetizers and local, hearty items designed to complement the movie watching experience. A cafe and lounge will also be included to provide for before and after movie hospitality.

Gawd, you don't even have to leave your seat to get fatter. You can cram butter-gooey popcorn and beer and "local hearty items" (probably slingers) into your sad, over-entertained face without ever leaving your seat (meaning your padded luxury-throne of sloth).
Happy New Year!
Fatty.
(In truth, I'm excited the movies are coming back to downtown proper; the last time I saw a movie in a theater east of Jefferson Avenue was in the late 80s, at the now-defunct Union Station Cine.)