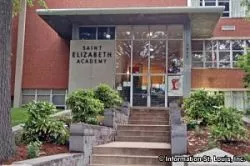 In June, these doors will close forever.
Yesterday afternoon, after Sister Susan Borgel, president of St. Elizabeth Academy in Tower Grove East, announced to the 133 students that the school would be closing at the end of the academic year, she asked if there would be any questions.
One student raised her hand. "What's going to happen to the faculty?" she asked.
It was then, Borgel says, that she felt she had achieved her mission, to educate "very good young women."
That does not change the fact, however, that this Catholic girls' high school's enrollment has reached a dangerously low point, down from an all-time high of 500 students back in the 1970s. Borgel and the board of directors spent three years trying to think of ways to reverse the sinking population, but this year they realized they no longer had the resources to continue to provide the sort of quality academic and extracurricular experiences they felt were integral to the school.
"We have a very close-knit community," Borgel says. "The students and parents are very sad. There were a lot of tears."
Borgel chose to make the announcement now instead of at the end of the year so that the school's 30 faculty members would have a chance to get their resumes together and secure jobs for next fall. The Sisters of the Most Precious Blood, based in O'Fallon, who run St. Elizabeth have no other schools in the area. The Sisters haven't decided yet what they'll do with the school building.
The school will also help place the students in other schools. The student body, says Borgel, despite its small size, is extremely diverse, comprising of girls from fourteen different countries who current live in more than 40 different zip codes. The school has a 100 percent college acceptance rate, and between 60 and 65 percent of the juniors and seniors are taking college-level courses.
"It's a joyful place," says Borgel. "This school is a blessing. It's a blessing to St. Louis and it's a blessing to the community. It's very sad we can't continue. But we've developed a lot of successful women. It's a sisterhood."