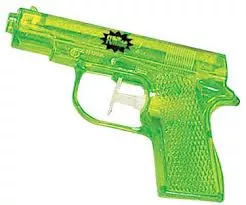 Image via
Michelle White robbed a White Castle with this
Michelle Faye White is going away for 15 years. It's probably better for everybody this way.
White, a 34-year-old from the 1900 block of Warren Street, was sentenced on Friday after admitting to an unusual robbery that occurred back on August 22, 2011.
At around 3 am on that date, White pulled up to the drive-thru window of the
White Castle at 2009 Hebert Street
in the Old North neighborhood. She brandished a water gun and passed a note to the cashier that read, "Give me money or I will shoot you."
The drive-thru employee backed away, so White crawled through the window and grabbed the drawer of cash, then sped off with $617.
But an off-duty firefighter was also in the drive-thru line. He saw the whole thing happen and scribbled down White's license plate number.
When cops later showed up at White's residence, she climbed up on her roof and then jumped off, breaking her arm, pelvis and leg. Fox2News
reports
that White was on drugs (and also reports that White had a prior conviction for killing someone while driving drunk.)
White finally pleaded guilty to the White Castle robbery last November, according to Casenet.
h/t
KTVI
,
PD