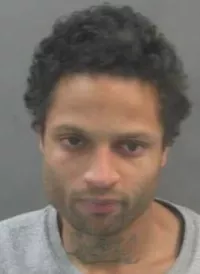 Merrell Burch now faces robbery charges
Authorities believe that a 26-year-old from south county was behind two robbery incidents in the past week -- and may be responsible for as many as seven others.
Merrell Burch is from the 7700 block of Olde English, which lies just outside city limits south of Willmore Park.
According to police and prosecutors, it was Burch who entered the Subway restaurant on the
4600 block of Chippewa Street
on Monday evening at 7:48 pm. He said he was going to rob the place and brandished a weapon, but fled the scene before collecting any loot.
Cops were called and caught up with him as he drove away; they say they found the weapon in his vehicle.
For that incident, Burch now faces one count of attempted robbery and one count of unlawful use of drug paraphernalia.
Burch also faces charges an incident that happened Saturday.
At 3:24 am on Saturday, a robber came into the Quick-Trip at
6900 Gravois Avenue
and demanded money, showing off his heater by lifting his shirt. The clerk handed over $50.
Tor that incident, Burch faces charges of first-degree robbery.
An e-mail from a police spokeswoman said the cops believe he may be responsible for as many as seven robberies.