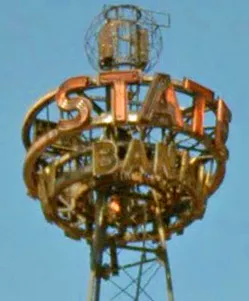 The Wellston State Bank sign with the "weatherball" on top.
In its heyday, the tower above the State Bank of Wellston flashed different colors to alert passersby of the weather forecast. A red signal might denote warmer weather. Blue could signal a cold front. White was status quo.
These days the tower's only discernible color is a rusty brown. The bank at the corner of Dr. Martin Luther King Drive and Kienlen Avenue in Wellston has been shuttered for years and is now undergoing demolition. Word has it that a McDonald's will soon take its place.
Yet there still may be a second life for the bank's iconic tower.
Blogger Toby Weiss broke news last month that Larry Giles of the St. Louis Building Arts Foundation was trying to raise money to salvage the four-story landmark. Just before Christmas Giles had some $6,000 in donations and was looking for more. Last week he told Daily RFT that he has yet to reach his goal of $12,000 to $15,000, and time is running out. The demolition contractor gave him a 20 to 30 day window to strike a deal.
Giles calls the tower a "rare surviving example" of the neon weather beacons that used to grace buildings throughout the U.S.
"The sign rotated and had a gear-driven motor that operated it," says Giles. "I'm pretty sure nothing on it works now. It will need to be taken apart and re-electrified."
The bank (as viewed heading east on MLK) began as the Sky Bank and later became the State Bank of Wellston and, later, a Regions Bank.
Giles says he has someone in mind who he hopes could use and repurpose the sign. If not, he may keep it at his Sauget-based institution that serves as a repository for architectural curios.
"If any of your readers want to pitch in, it's probably worth mentioning that we are 501(c)3 tax-exempt organization," he adds.